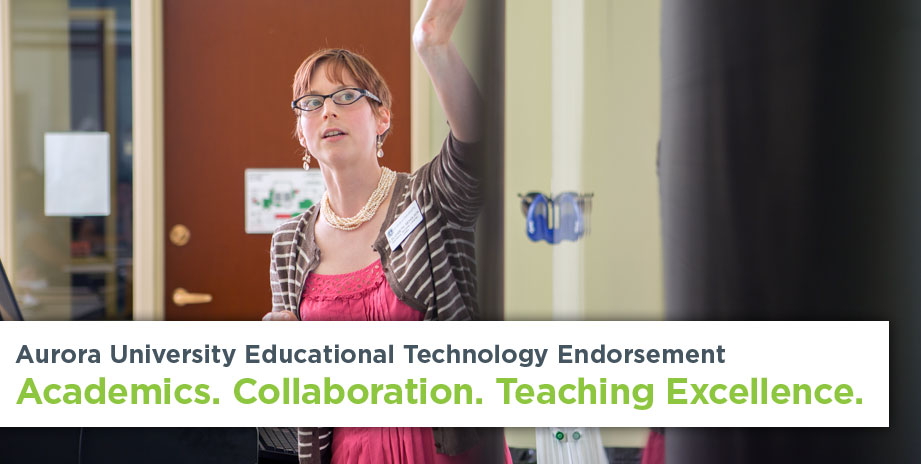 Program Requirements
The Educational Technology endorsement is a 24-semester hour program that prepares candidates for a position as a teacher or specialist of technology programs in school-based settings. Graduates may teach technology and serve as the district technology expert in hardware, networking and programming.  Candidates who complete the program are eligible to take the Technology Specialist content test for an endorsement as a Technology Specialist.
The Technology Specialist is prepared to effectively plan, deliver and assess students 'mastery of concepts and skills relevant to learning technologies and technological literacy across the curriculum. The Technology Specialist will also apply effective methods and strategies for teaching technology concepts and skills to students, educators and administrators in various educational settings.
Required Courses
Technology Content Core (24 semester hours):
EDU 6210             Planning and Developing Instructional Media I
EDU 6215             Planning and Developing Instructional Media II
EDU 6220             Computer Applications in Education
EDU 6225             Assessment and Evaluation with Technology
EDU 6230             Managing the Instructional Technology Program
EDU 6235             Leading Staff Development in Educational Technology
EDU 6240             Distance Learning
EDU 6250             Issues and Trends in Instructional Design and Technology
Candidates meet requirements for only the Technology Specialist Endorsement by completing the Technology Content Core and passing the ISBE Technology Specialist content area test (#178.) Candidates interested in earning a Master of Arts degree will take an additional eight semester hours in curriculum and design as well as educational research and application in individual classrooms and districts.
Endorsement is on a grade-level certificate.  In order for the endorsement to be applicable for the mid grades the candidate must have a Middle School Endorsement. The Middle School Endorsement can be obtained by adding two required courses:
EDU 5440             Middle School:  Mission and Methods
EDU 5370             Adolescent Development and Learning
Admission Requirements
All candidates seeking admission to the Educational Technology Program must:
A valid Illinois professional educator license (early childhood, elementary, secondary, special PreK-12, or preschool-age 21)
Be in a current full-time teaching position, and have one or more years of teaching experience in a PreK-12 setting
Pass the Illinois Basic SkillsTest, TAP Test of Academic Proficiency or have an ACT Plus Writing composite score of 22 or higher.
Admission Process
A completed Graduate Application for Admission
Transcripts (official, sealed in envelope) from the last degree earned: undergraduate degree indicating a GPA of 2.75 or higher or a graduate degree indicating a GPA of 3.0 or higher, both based on a 4.0 scale. Aurora University accepts official electronic transcripts at AU-ETranscripts@aurora.edu
A current resume documenting teaching and experience using technology to increase student achievement.
A recommendation from your current building principal or direct supervisor.
Attendance Policy: All Graduate Education Program
Attendance is mandatory at all class sessions. If a student is to be absent for any reason he/she must discuss the expected absence with the course instructor before it occurs.
Academic Standards and Evaluation in Graduate Education Programs
Upon completion of each course, letter grades are assigned to each student. At the graduate level, a "C" grade indicates less-than complete mastery of the content and methods of the course. Only two grades of "C" are accepted at the graduate level in the program, and they must be balanced by two course grades of "A". If a "C" is received within the first three courses, the student may be removed from the program by action.
Find a Cohort Near You
To learn more information about cohorts forming in your area, complete the form below.
Loading...