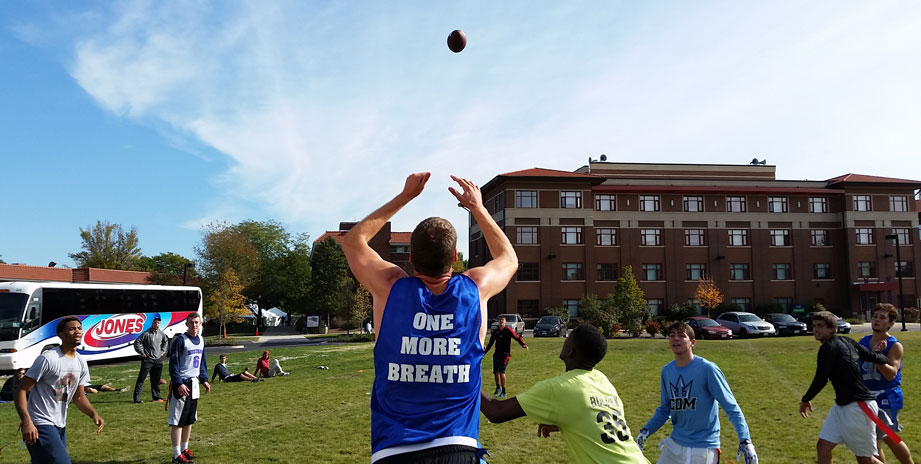 The Intramural Sports program at AU provides an opportunity for all students, faculty, and staff to enjoy satisfying experiences in positive and productive ways outside of the classroom and office throughout the academic year. It is the goal of Aurora University Intramurals to enhance the lives of Aurora community members in positive and productive ways while promoting the value of fair play and a healthy lifestyle.
General Info:
Eligibility:
Who can play?
All currently enrolled students are eligible to participate in the AU Intramural Sports Program. Students must be enrolled in the same semester as the intramural sport in which they wish to participate.
Employees of the university are eligible to compete in intramural sports activities.
Intramural sports are not limited to students living on campus. We strongly encourage commuter students to participate in all activities.
A player may only be on one roster during each intramural sport.
AU Athletes:

An athlete is any individual who is listed on the roster of any of the AU sports teams.
No more than three (3) athletes may be on an Intramural Sports team roster that correspond to the sport in which they are a member.
Athletes that are in season may not participate in the sport that they are a member of while they are in season. (i.e. Basketball players that are in season may not play in Intramural Sports basketball if it is provided during their season.)
Intramural Code of Conduct:
All players should display sportsmanlike conduct at all times. Remember that intramurals is provided to have fun, so please keep this in mind. However, in the event of any unsportsmanlike conduct these guidelines will be followed.

First warning: Any individual who exhibits unsportsmanlike conduct, such as rough play, obnoxious behavior, excessive profanity, or any other behavior that inhibits orderly play
Final warning: Any individual who repeats the conduct listed above will no longer be able to play for the remainder of the game

All warnings will be recorded, and reported. If a player has had two final warnings throughout play, he/she will be excluded from the remainder of scheduled games.
Registration
How can I register?
Teams and individuals register by completing a registration form.
When completed, it should contain the names, phone numbers, and AU email addresses of all players; however, participants may be added after the roster is submitted up until the time of the captain's meeting, in which all rosters are final.
Forms are located on SpartanNet.
Please fill out the registration form and turn it in to Alumni Hall Room 106 by the deadlines listed on the registration form.
Every team member must read and sign an Assumption of Risk, Waiver, and Release From Liability form prior to competing in any Intramural Sports at Aurora University. Each participant only needs to fill out one form per academic year as it applies to every sport in the Intramural Program and the Intramural Coordinator will keep it on file. The form should be turned in along with the team's registration sheet. A player may not participate until this form has been completed.
Team Names:
When registering for an intramural sport, the captain may select a team name for their team's designation. Please be creative, we encourage unique names with the following stipulations:

No vulgar, profane or derogatory language
No references to drugs, alcohol, tobacco, or violence
No sexual references or innuendos
No confusing terms such as BYE or CANCELED, etc.

If a team submits an inappropriate team name, the Intramural Sports Student Coordinator will ask for it to be change or change it personally. Teams will not be allowed to compete while wearing team apparel with inappropriate names or pictures.
Registration Deadlines:
The registration form must be completed and returned to the Intramural Coordinators Office by the entry deadline listed on the registration form.
Entries received after this deadline will not be included in the scheduling of the games.
Each intramural sport will have a minimum and maximum number of teams needed in order to run.

If the minimum number of teams are not met by the registration deadline, the sport will be canceled and rescheduled if requested.
If the maximum number of teams is met prior to or meeting the deadline, no more teams will be permitted to participate.

The entry deadline is listed on all event posters, fall calendar and spring calendar. Late registration will not be excepted, NO EXCEPTIONS!
Captain's Meetings:
Attendance at the captains' meeting is MANDATORY for all activities.
A team representative must be present at this meeting.
Failure to attend this meeting will result in an automatic forfeit of that team from that sport in its entirety.
Captains will be responsible for reading and understanding all intramural sports rules for that particular event and relaying that info to their teammates.
Misunderstandings of the rules could lead to problems within the event, and ultimately disqualifying the team as a whole.