*The Schingoethe Museum and Art Gallery are currently closed until 2015.*

Aurora University is pleased to announce that the Schingoethe Museum and Art Gallery will be relocated to the new Welcome Center, a 21,000-square-foot building that will serve vital purposes, in 2015. One wing of the Welcome Center will house the Schingoethe Museum with collections and exhibits oriented around a large central art gallery.
Watch the building take shape on our live video feed of the construction!

For more information, please call 630-844-7844, email museum@aurora.edu or download the museum brochure.
The museum is closed, but exhibits and programs continue!
The Schingoethe Center collaborated with The Field Museum for a live painting event with Bunky Echo-Hawk on September 28, 2013. The event corresponded with the opening of The Field Museum exhibit Bunky Echo-Hawk: Modern Warrior.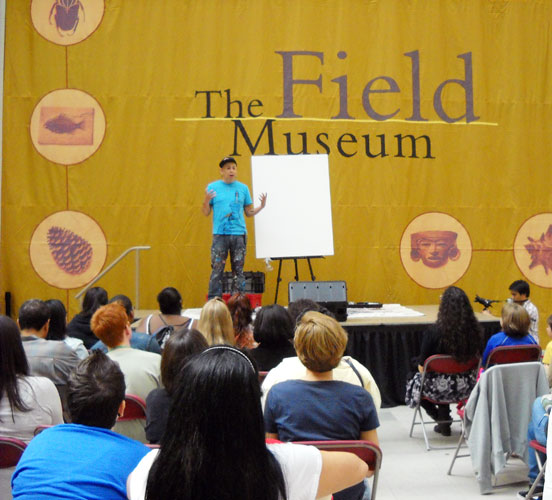 Throughout the construction process you can still see some of our collection at Northern Illinois University's new Anthropology Museum where our exhibit Children of Native America will be on display through July 2014. For further information on the new NIU Anthropology Museum and the Schingoethe exhibit, click here.
| | |
| --- | --- |
| Documenting The Museum's Move: All In A Day's Work | |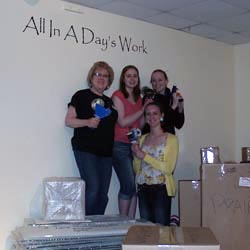 Left to right: Meg Bero, Executive Director; Laura Russman,
Kayle Rieger, Amber Foster (not pictured) Museum Studies
Student Assistants; and Elizabeth Easto, Schingoethe Fellow.
Packing the collection of more than 5,500 artifacts took care and ingenuity. Due to the odd sizes, shapes, and materials, many custom boxes with appropriate internal support were needed. These will protect the pieces while in offsite storage for the year and many will continue to hold the artifacts when they return to us. Packing the collections required a Murphy's Law approach—always preparing for the worst possible scenario. We invite you to view the process by clicking here.
Our award-winning exhibits include:
"Unraveling Revelations: Decoding the Prophetic Charts," curated by students in the MST2200 Museum Exhibitions course, Award of Excellence in Exhibitions from Illinois Association of Museums (2012)
"M.A.I.Z.E. (Museum Artifact Inquiry ZonE) educational project," developed by Meg Bero and Randy and Debbie Steinheimer, Awards of Superior Achievement from Illinois Association of Museums and Illinois State Historical Society (2002, 2003)
"Museum of the Mysteries," Curator: Meg Bero, Awards of Superior Achievement from Illinois Association of Museums and Illinois State Historical Society (2002, 2003)
"Native Peoples of Illinois:1673-1835," Curators: Dr. Donna Bachman, Mary C. Kennedy, Meg Bero, Award of Superior Achievement from Illinois State Historical Society (2001)
Nizhnoni Gallery and "The World of the Kachina," Curator: Meg Bero, Award of Excellence from Illinois Association of Museums (2003)
What is being said about the Schingoethe Museum:
"I really enjoyed visiting the Schingoethe Museum. I learned a lot and liked knowing it is a resource as a teacher." Aurora University Student
"I thought I knew a lot about Native Americans but visiting the museum enhanced my learning. It was especially helpful to see the maps and talk about culture and environment."  Aurora University Student
"Incorporating different cultural educational traditions and educating students on different cultural religious traditions are only of benefit to the future student's education and acceptance of diversity." Aurora University Student
"An institution such as Aurora University (especially given its size) is extremely fortunate to have a museum and center such as the Schingoethe. The exhibits and lectures have enriched the content of my courses and bolstered the overall quality of my instruction." Aurora University Professor
"The presentation in the Schingoethe Center was engaging, drew the students in, presented them with  much information that was new to them and drew them to the present issues of education and life in general for today's Native American. As we left the session I heard our students engaging in discussions about what the had learned, how they had never thought about things in quite that way. It was a wonderful experience for all of us." Aurora University Professor
"This museum is one of Aurora's hidden 'gems.' Thank you!" Teacher, Smith School
Volunteering Opportunities
Are you a life long learner? Do you enjoy working with the public? Would you like to make a contribution? If so, then why not become a Schingoethe Center Docent?
Please click here to learn more about our volunteering opportunities.