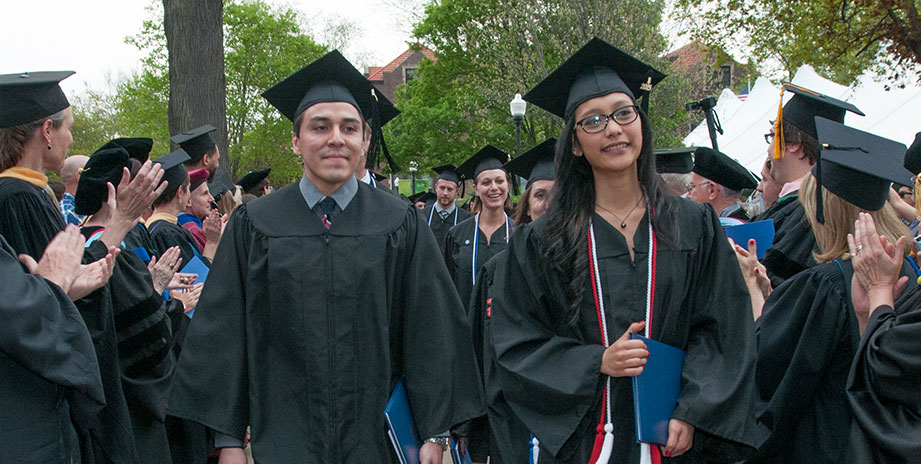 Congratulations, graduates! You will soon be part of the AU alumni family. You've worked hard and we're looking forward to celebrating your accomplishments at Commencement 2016.
Commencement Ceremonies
GWC Ceremony
Saturday, May 7, 2016
11:00 a.m.
Ferro Pavilion
AU Graduate Ceremony
Sunday, May 8, 2016
10:00 a.m.
Aurora University Quadrangle
AU Undergraduate Ceremony
Sunday, May 8, 2016
2:00 p.m.
Aurora University Quadrangle
Countdown to Graduation
Graduation Application becomes available on WebAdvisor
Potential undergraduate degree candidates: If you have not yet received a degree check, please contact the Crouse Center at 630-844-6870. To complete your degree and receive a diploma, whether or not you plan to participate in the ceremony, you must complete the Graduation Application.

Verify name to be printed on diploma
Indicate whether or not you will participate in the ceremony
Pay graduation fee (fee is due at time of graduation, but you can apply now.)

Cap and Gown ordering begins

Order your cap and gown from Herff Jones
You must have a cap and gown to participate in the ceremony
Cap and gown is free and yours to keep
Deadline for Graduation Application

If you do not complete the Graduation Application by March 4, please contact Kendra Trudo at 630-844-5413 or ktrudo@aurora.edu.

Deadline to order cap and gown

You will not be able to participate in the ceremony if you do not order an Aurora University cap and gown. If you have questions, please contact Lisa Waters at 630-844-6199 or lwaters@aurora.edu.

Registrar confirms graduation honors

You can find graduation honors requirements here. Honors will be based on the cumulative GPA and semester hours completed as of the end of the current academic year's fall term and updated upon degree notation.
Graduation packet is mailed to students' permanent address

Packet will include specifics for your commencement ceremony and tickets for your guests
April 19 and April 20, 2016 | 10 a.m. - 6:00 p.m. | Institute for Collaboration Atrium
Cap and Gown Days


Pick up cap and gown
Update information with Office of Alumni Relations
Financial Aid and Graduate Admission representatives will be available
Order class ring, diploma frame and personalized announcements
Purchase souvenir tassels
April 22, 2016 | 2:00 p.m. | Crimi Auditorium

Honors Convocation

Recipients of the Gold Ivy Leaf and university awards will be recognized. Recipients and their families will be invited to attend via postal mail and email.
Friday, May 6, 2016 | 11:00 a.m. | Thornton Gymnasium 

Commencement Rehearsal and Senior Luncheon

Aurora campus undergraduates to attend
You do not need to bring your cap and gown to rehearsal
9:15 a.m.: Graduates arrive at Thornton Gymnasium to line up for 10:00 a.m. ceremony
1:15 p.m.: Undergraduates arrive at Thornton Gymnasium to line up for 2:00 p.m. ceremony