*The Schingoethe Museum and Art Gallery will be closed Monday, May 6, 2013 until the fall of 2014.*
Aurora University is pleased to announce that the Schingoethe Museum and Art Gallery will be relocated to the new Welcome Center, a 21,000-square-foot building that will serve vital purposes, in the fall of 2014. One wing of the Welcome Center will house the Schingoethe Museum with collections and exhibits oriented around a large central art gallery.
Watch this page for updates!
Questions? Please call 630-844-7843 or email museum@aurora.edu.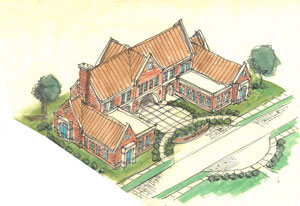 Our Facilities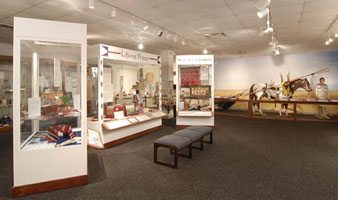 The Schingoethe Center's main gallery of more than 1,500 square feet and a smaller attached gallery for temporary exhibits explore both historical and contemporary Native American materials from North America. The timeline of Native American life in the North American continent stretches deep into prehistory. Our exhibits, however, reflect not only the past, but the present. Both early history and contemporary artistry are presented with artifacts from the major cultural regions of Native Americans in North America. The exhibitions present a harmony in living and artistic expression.
Hands-On Activities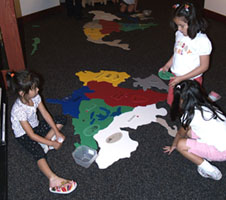 Included in the cost of admission, museum visitors can participate in several Hands-On activities for experiential learning. These activities are great for adults and kids to do together:
Floor Puzzle — Put together our large (6' x 6') floor puzzle of the culture areas of North America. When you have finished the puzzle, add pictures of the dwellings in the proper culture area.
Weaving — Our weaving tables are ready. Three looms are available. Try your hand at weaving.
Mano & Metate — What would it be like to spend hours a day grinding corn for lunch and dinner? Try your hand at grinding corn the way Native American women did for centuries.
Arts & Crafts — Selected arts and crafts activities pertaining to the exhibits are available in our library.
Construct a Wigwam and then get in!
Puzzle Magnets
Stories and Puppets — Choose between a variety of Native American children's stories and legends to read. Use one of the puppets to bring the story to life.
Research and Reference Library

The Schingoethe Center has a growing research library that contains more than 2,000 volumes, audio/visual materials, rare books and periodicals related to Native American cultures. The library materials are catalogued, and the information is also listed in Aurora University's library card catalog and thereby through Illinet-Online. The research library is open to the public during regular museum hours. All materials in the library are non-circulating; however, a photocopier is available.
To learn more about the Schingoethe Reference and Research Library, please follow this link:
Museum Shop
The Museum Shop is located in the Entrance Gallery of the Center, on the lower level of Dunham Hall.
The Museum Shop is filled with a variety of objects made by Native Americans from all over the country. It is a favorite shopping destination for those looking for a unique gift. Whether you desire pottery, jewelry, dolls or drums, the Schingoethe Museum Shop has quality hand-made items. You will find a wonderful selection of books for children and adults as well.
Come and see our special collection of things Native American! Choose the perfect gift from our wonderful selection including:
Dream catchers
Baskets
Pottery
Textiles
Cookbooks
Books for children and adults
Native-made jewelry
Gifts for men
Stuffed animals
Educational materials, including puzzles, maps and make your own kits — popular with both teachers and parents