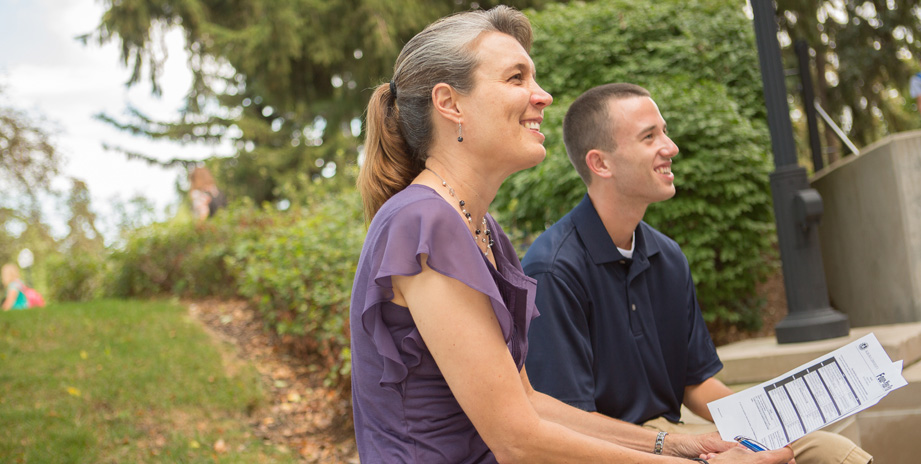 The minor in Servant Leadership will guide students through a multi-year process of character examination facilitated by the exploration of the roles of commendable exemplars of citizenship and excellence. The program model provides an experimental opportunity through which the value of the continuous learning can be reinforced beyond biographical examples. The overall goal of this program is to provide a path for students to define and claim the elements that will define their own integrity, all with an air of intentionality rather than default. There is no more appropriate way to begin the lifelong practice of citizenship, excellence, continuous learning and integrity, than to be asked to examine and demonstrate those practices for oneself. The requirements for completion stipulate 20 semester hours, with 2 semester hours being internship/experientially based. The curriculum draws extensively from classic literature and historical biographies to build a philosophical premise for navigation of leadership rights and responsibilities, exemplifying servant leadership and stewardship.
A student pursuing a minor in Servant Leadership will complete the "Examination of Philosophy and Practice" course (2 semester hours). Students will then meet with the chair of the program to select a series of electives over the duration of their academic career. The flexibility of choices allows the student to explore their preferred area of interest. Students will satisfy 2 semester hours (100 clock hours) of service-oriented internship/experiential credit (internship or service travel), for which the elected minor courses will provide a targeted academic frame of reference. At the midpoint of the minor curriculum, students will participate in the "Foundation for Action" course (2 semester hours) to reflect on their coursework and leadership/service experience, and provide an opportunity to facilitate the forging of connections between coursework taken and servant leadership as a philosophy. The program concludes with a "Capstone Course" (4 semester hours).
SVL2100 Servant Leadership: An Examination of Philosophy and Practice (2 semester hours)
Meets General Education "Knowing Ourselves and Others" Group A Requirement
SVL2200 Servant leadership: Foundations for Action (2 semester hours)
Taken when a minimum of 8 semester hours toward the minor have been completed.
Required Service Internship (2 semester hours)
Students will complete 100 hours of participation in a service-oriented activity/experience. This requirement may be met through a local internship or international service travel. Placement will be overseen and facilitated by the faculty program chair.
**Nursing Students may satisfy this requirement via NUR3100Z and NUR3110Z, or NUR3270Z and NUR4210Z. Students will meet with the faculty program chair at the inception of the courses.
**Social Work students may satisfy this requirement via SWK4210. Students will meet with faculty program chair at the inception of the course.
SVL3100 Servant Leadership Capstone (4 semester hours)
Taken as a final course in the program.
Optional Courses - (Minimum of 10 hours from at least two different disciplines.)
Inclusion on this list does NOT imply any change of catalog requirements for the course. All prerequisites must be met and all restrictions as to who may or may not take the course remain applicable.
(Subject to change given availability of offering) (PRQ indicates prerequisite required) (*GenEd)
| | |
| --- | --- |
| ACC5520 | Governmental and Non Profit Accounting (3) PRQ |
| BIO2200 | Humans and the Environment (*NW) (4) |
| BIO2750 | Health Professions Seminar (2) |
| BIO3080 | Nutrition and health Promotion (4) PRQ |
| BIO3370 | Conservation Biology (4) PRQ |
| BIO3380 | Ethics in Biotechnology (3) PRQ |
| BUS3280 | Organizational Behavior (3) PRQ |
| BUS3360 | Sales Management (3) PRQ |
| BUS3480 | Financial Markets and Institutions (3) PRQ |
| BUS4200 | Management Strategy (3) PRQ |
| COM3300 | Relational Communications (3) PRQ |
| COM3500 | Intercultural Communications (3) PRQ |
| COM3520 | Global Communication (3) PRQ |
| CRJ/SOC2300 | Criminology (*KOB) (3) |
| CRJ2310 | Juvenile Justice (3) PRQ |
| CRJ3100 | International Crime and Justice (3) |
| CRJ3600 | Crisis Intervention (3) |
| EDU2100 | How Schools Work (4) |
| EDU2260 | Theories of Learning (4) |
| ENG3520 | Racial and Ethnic Themes in Literature (4) PRQ |
| ENG3550 | Language, Literacy & Cognition (4) PRQ |
| HED2050 | At Risk Behaviors and Society (3) |
| HIS3050 | American Urban History (4) |
| HIS3100 | The African American Experience (*KOB) (4) |
| HIS3150 | Women in American History (4) |
| HIS3400 | Problems in History (4) PRQ |
| LTS1300 | Latinos and Latinas in the United States (3) |
| NUR3000 | Introduction to Professional Nursing (3) |
| NUR3030 | Dimensions of Professional Practice/RN (3) PRQ |
| NUR3090 | Transcultural Nursing (4) PRQ |
| NUR4200 | Nursing: A Global Community Outlook (5) PRQ |
| NUR 4760 | Ethical Decision Making/RN (4)PRQ. |
| PHL3150 | Professional Ethics (*APA) (4) |
| PHL3400 | The Good Life (*APA) (2/4) |
| PED2210 | Children, Youth in Society (3) |
| PED2300 | Coaching Principles and Techniques (2) |
| PED3010 | Youth Policy: Enhancing Healthy Development in Everyday Lives (3) |
| PED3480 | Sports Psychology (3) PRQ |
| PED4100 | Administration of Athletic Training, Fitness and Physical Education (3) PRQ |
| PSC3140 | Political Participation and the Electoral Process (4) PRQ |
| PSC/CRJ3180 | Constitutional Law and the Judicial System (4) PRQ |
| PSC3310 | International Organization and Politics (4) PRQ |
| PSC3560 | Comparative Political Systems: Developing Nations (4) PRQ |
| PSY2300 | Learning and Motivation (4) PRQ |
| PSY3460 | Exceptional Individual (3) PRQ |
| REL3100 | Philosophy of Religion (*APA) (3) |
| REL3350 | Jesus (4) |
| REL3400 | Love the Stranger: The History and Significance of Interfaith Dialogue (4) |
| SBS2100 | Human Geography (*KOB) (4) |
| SPED3120 | Characteristics and Identification of Disabilities and the Law (4) PRQ |
| SPED3200 | Cognitive Development and Disabilities (2) PRQ |
| SPED3500 | Diversity and Disability Issues (2) PRQ |
| SWK1100 | Careers in Social Work (*KOA) (4) |
| SWK2100 | Social Work in American Society (*KOA) (4) |
| SWK2150 | Violence in America (*KOA) (4) |
| SWK3100 | Introduction to Social Work (3) |
| SOC2150 | Cultural Anthropology (*KOA) (3) |
| SOC/PSP3400 | Social Problems in Urban Society (4) |
| SOC/PSP3480 | Globalization of Social Change (*KOA) (4) |