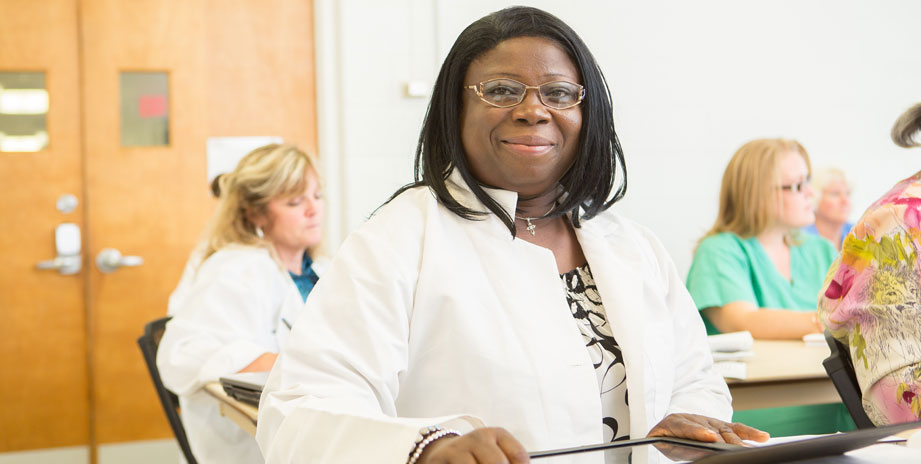 Nursing, B.S.N.
Program Accreditation
Bachelor of Science in Nursing
Nursing is both an art and a science. Nursing is a therapeutic, helping relationship devoted to promoting, restoring and maintaining the health of individuals, families, groups and communities. The mission of the School of Nursing is to provide professional education for human services using a curriculum that is socially relevant and reflects the diverse needs of the community. Five themes serve to provide recurrent foci throughout the program: caring, health, learning, commitment to human dignity and nursing.
The nursing faculty is committed to a collaborative learning environment for students. The nursing faculty seeks to accommodate the learning needs and professional aspirations of students with varied educational backgrounds. Aurora University offers a four-year Bachelor of Science in Nursing degree, which may be taken full- or part-time. Following admission to the university, applicants are reviewed for acceptance to the School of Nursing.
NOTE: Additional information about the program and policies are contained in the current Aurora University Baccalaureate Nursing Student Handbook.
Application Requirements
In addition to the Aurora University undergraduate admission requirements, students applying to the nursing program should:
•    Complete a School of Nursing application, available in the School of Nursing office.
•    Earn a satisfactory score on the Test of Essential Academic Skills (TEAS).
•    Possess a grade-point average (GPA) of 2.75 on a 4.0 scale at Aurora University or other regionally accredited higher education institution.
•    An interview may be required at the discretion of the Admissions, Policies and Standards Committee.
•    Applicants who are graduates of foreign secondary schools where the primary language of instruction is not English or whose primary language is not English must obtain a composite score of at least 550 (or a 213-220 on the computer-based test) from the Test of English as a Foreign Language (TOEFL) or ELS Level 109. 
B.S.N. Core Prerequisites: 30-33 semester hours

| | |
| --- | --- |
| BI01210 | Biology of Cells (4) |
| BIO2280 | Microbiology (4) |
| BIO2660 | Anatomy and Physiology I (4) |
| BIO2670 | Anatomy and Physiology II (4) |
| BI03050 | Pathophysiology (3) |
| *CHM1200 | Principles of Chemistry (4) |
| MTH1100 | College Algebra (3) or successful completion of Mathematics Competency Requirement |
| MTH2320 | General Statistics (3) |
| PSY3250 | Lifespan Development (4) |
NOTE: BI01210 and CHM1200 may be applied to meet general-education requirements in the area of Observation of the Natural World for graduation. All pre-licensure nursing students must complete the lower level general-education requirements before beginning their nursing classes.
Nursing Requirements: 60 semester hours
| | |
| --- | --- |
| NUR3000 WI | Introduction to Professional Nursing (3) |
| NUR3100 | Principles of Nursing I (6) |
| NUR3110 | Principles of Nursing II (6) |
| NUR3160 | Pharmacological Concepts (4) |
| NUR3260 | Health Assessment, Promotion and Education (4) |
| NUR3400 | Behavioral Health Issues (5) |
| NUR4050 | Nursing Research (3) |
| NUR4200 | Nursing: A Global Community Outlook (5) |
| NUR4300 | Medical Surgical Nursing I: Collaborative Practice in Health and Illness (7) |
| NUR4500 | Nursing Care of the Family (7) |
| NUR4600 | Leadership and Management (4) |
| NUR4800 | Medical Surgical Nursing II: Collaborative Practice in Health and Illness (6) |
This program is offered on the Aurora campus and at the Woodstock Center.
Program Accreditation
Aurora University baccalaureate nursing program is fully accredited by the Commission on Collegiate Nursing Education.
Commission on Collegiate Nursing Education
One Dupont Circle, NW
Suite 530
Washington DC
20036-1120
202-887-6791
Academic information on departmental Web sites reflects the university's most current curriculum. The print version of the catalog, which is also posted online, may differ from this information.
Open House and Visit Days