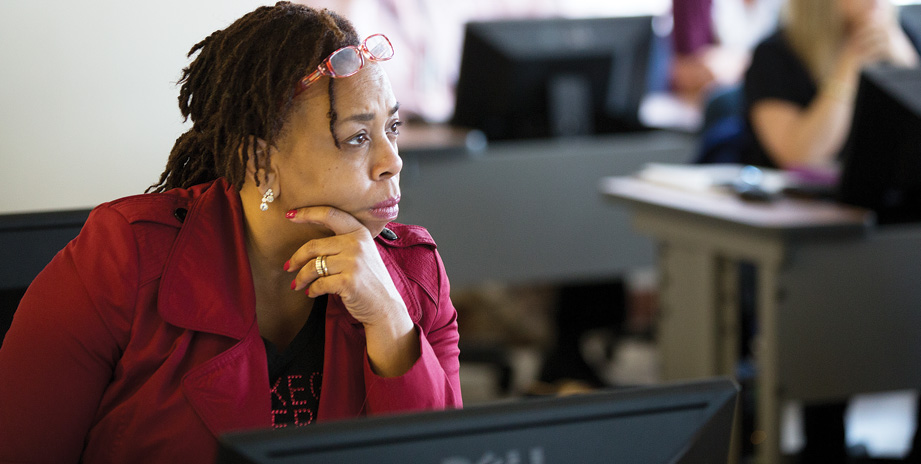 This program is offered on the Aurora campus and at George Williams College.
The Master of Social Work program, offered at our Aurora and George Williams College campuses, allows students to gain a strong base in generalist clinical social work practice as well as specialized study. Our programs are flexible, with full- and part-time programs and courses offered in the day and evening. Our faculty are dedicated to helping you find your place within the social work profession, and we offer a variety of specializations that strengthen your knowledge in the areas of the field that interest you.
Program overview
In the MSW program, you will complete 60 hours of study, including
30 semester hours of foundation social work courses, which include 15 clock hours per week of field instruction
30 hours in clinical concentration courses, which include approximately 20 clock hours per week of field instruction
Optional specializations in addictions, child welfare, gerontology and leadership
You can complete the MSW program in the format that works best with your current life situation, including:
Specializations (optional)
Addictions
Prepares students to work with substance-abusing individuals and their families within a primary substance abuse treatment setting. The course work focuses on educating students about various aspects of substance abuse, challenging some of their own biases regarding this population, and learning specific clinical skills to help the various sub-populations of addictions. Within the clinical concentration, students complete a field internship at an approved addictions site. Upon successful completion of this specialization, students are eligible to take the Illinois state CADC examination. (Offered on Aurora campus)
Child welfare
Focuses on coursework to address issues surrounding families facing turmoil and struggles, protecting children from abuse, and finding permanent placements for those who cannot safely return to their homes. Internship experiences include positions in case management, shelter care services, criminal justice, substance abuse agencies and therapeutic foster care services. Within either the clinical practice or leadership and community practice concentrations, students complete four electives and a child-welfare-specific internship. (Offered on Aurora campus)
Gerontology
Focuses on coursework providing an in-depth understanding of individuals in their later years, including identifying biological and psychological changes, addressing health concerns and examining social supports of older. Within the clinical concentration, field internship experiences include positions in case management, hospice, hospitals and adult day care settings. (Offered on Aurora campus)
Leadership (through the Dunham School of Business MBA program)
Prepares students towork in business management and administration in the fields of social work and human services. Students can earn a certificate in leadership for the not-for-profit sector by taking specific courses within the concentration. (Offered on Aurora campus)
Resources
Please see the MSW Student Handbook for complete program details and more information.
Council on Social Work Education (CSWE) Assessment Data and Communication
The School of Social Work (SSW) at Aurora University is a combined (BSW and MSW) program accredited by Council on Social Work Education since it originated at George Williams College in Downers Grove, Illinois before finally coming to Aurora University in 1987. Since that time, the SSW programs have continually been reaffirmed by CSWE through its required eight-year cycle. Please click on the links below to view the 2008 Self Study and the official letter of reaffirmation from 2009. Please see chapter eight, beginning on page 355, "Program Assessment and Continuous Renewal," which details assessment work of both the BSW and MSW programs according to the 2001 EPAS from CSWE.