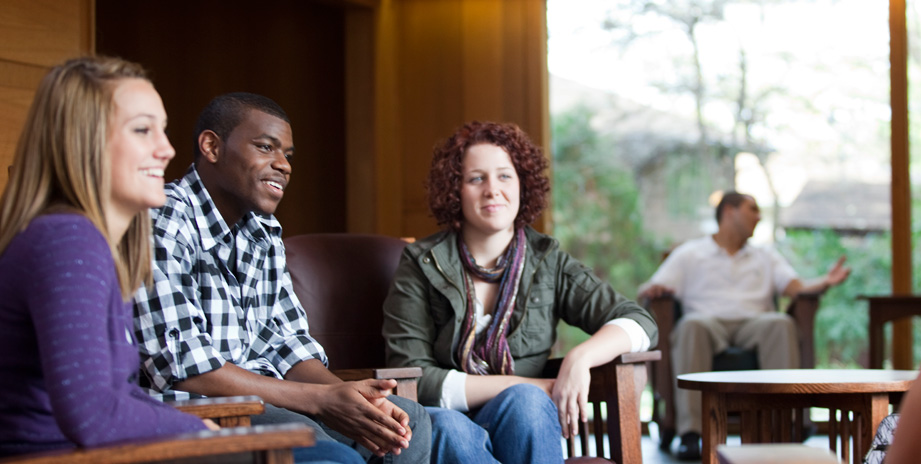 The Wackerlin Center is ensuring that faith and service remain an essential part of campus life, just as they were for AU's founders. Whether students are questioning their beliefs, seeking to understand other faiths or hoping to make a difference in the community, the center is there to lend support.
You can make a gift that supports the Wackerlin Center or Servant Leadership Initiative through:
General annual or endowment support, ensuring that adequate resources are available for ongoing growth of the center
Designated support to advance campus ministry programming on campus
Undergraduate scholarships to assist deserving students who participate in Wackerlin or servant leadership programs
Providing a gift in support of a wide range of student service projects
Support of personal and professional renewal opportunities for students, lay leaders, ministers and professionals seeking to enrich their spiritual journeys or learn how to apply servant leadership in their organizations
Establishment of endowments to fund a named chaplaincy, professorship, chair or program
A summer student residential institute in servant leadership for college students from throughout the Midwest
Centennial Project
A proposed $650,000 addition to the Wackerlin Center, one of three planned centennial projects at Aurora University, will expand the center's role by providing a new large open space for classes, worship services, and student and community gatherings. The renovated facility will be a major step forward in advancing the Wackerlin Center's goal of connecting the Aurora College heritage of "Character and Scholarship" to the lives of students today. Find more information on the Centennial Projects page.
Contact
Ted Parge
Executive Vice President
Aurora University
630-844-5262
tparge@aurora.edu
No events scheduled at this time.