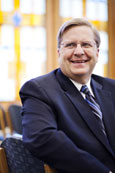 Ted Parge, Executive Vice President, Interim Director of the Wackerlin Center for Faith and Action

Ted serves as Executive Vice President at Aurora University. Prior to his current position, he served eight years as the university's Vice President for Advancement. Under Ted's leadership, the Aurora University development program experienced significant growth with more than $64 million in philanthropic support received during his tenure.
In his current role, Ted continues to oversee the university's advancement programs while also providing administrative leadership to select strategic program initiatives at Aurora University, including the Wackerlin Center and Servant Leadership Initiative.
Ted earned undergraduate and graduate degrees in music education from Illinois State University and has more than 30 years experience in not-for-profit management and higher education.
To contact Ted, call 630-844-5262 or e-mail tparge@aurora.edu
---

Barbara Calvert, Director of Programming
Barb joined Aurora University in 1997. Prior to working at the Wackerlin Center, she served as the Director of Alumni Relations for eight years and held a variety of roles in Student Life for four years. She is also an Aurora University alumna and holds a bachelor's degree and MBA from the university.
The Wackerlin Center is a central resource on campus for students seeking volunteer and service opportunities. It provides students with a creative environment for the development of programs and initiatives that focus on service and volunteerism. Barb works closely with students interested in serving others in the community as well as organizing large-scale volunteering events, such as Morning of Service. She also played a large role in the development of Volunteer Fox Valley, a virtual volunteer center created in partnership between the Wackerlin Center and the Fox Valley United Way. Volunteer and other community-driven opportunities help students see the need in the world around them.
To contact Barb, call 630-844-6865 or e-mail bcalvert@aurora.edu
---

Dr. Jonathan Dean, Chaplain

Jonathan was born in industrial Dudley, United Kingdom, and raised in rural Cambridgeshire in the ancient city of Ely. He studied classics at the University of Oxford and theology at the University of Cambridge, where he completed a PhD in Reformation studies. He taught seminarians from five major denominations in the Cambridge Theological Federation and worked as an examiner in theology for Cambridge University. 
Ordained in the British Methodist Church, Jonathan has served churches both in the U.K. and the Chicago area, and worked in Britain as a prison chaplain in a high-security jail. Through his experiences in South Africa and Guatemala, as well as Britain and the United States, he has worked with a variety of people from different racial, ethnic, and socioeconomic backgrounds, which have spurred him on not only in interfaith dialogue and action, but also the pursuit for peace and justice.
In 2008, he joined Aurora University as the assistant professor of religion currently teaches a variety of religion courses at AU.  He hopes that students and staff alike will visit the center and enjoy a proper cup of British tea with him.
To contact Jonathan, call 630-844-6866 or e-mail jdean@aurora.edu.
---

Kris Johnson, Wackerlin Center Fellow
Kris came to Aurora University in 2002, where she served as an assistant professor in the recreation administration program and eventually transitioned to the Director of Student Leadership. She created the L.E.A.D. program (Leadership, Education, and Development) and teaches the Wellness and Social Responsibility course. Through her connection to the Wackerlin Center, Kris is able to enhance the existing service projects, as well as develop more service opportunities for students, faculty and staff members.  Through these types of activities, she feels that students are able to develop a better sense of social responsibility and well-being as well as awareness about the world around them.
To contact Kris, call 630-844-5624 or e-mail kjohnson@aurora.edu.
---