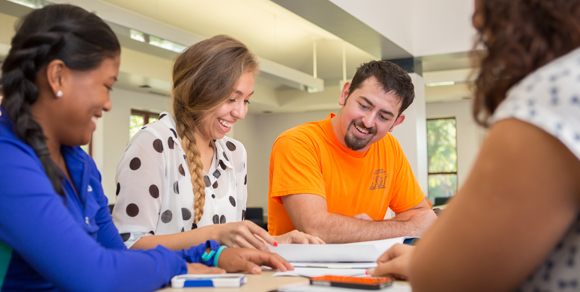 The Bachelor of Arts and Bachelor of Science in Organizational Management programs at AU prepare you to be an effective manager in industry and non-profit settings through courses in human resources, operations management and organizational behavior. You'll gain essential practical experience both in your courses and through your professional internship.
Program Overview
To earn an undergraduate degree in organizational management, you will complete at least 120 semester hours in general education and business courses. You also must complete concurrently all of the requirements for the major in business administration (47-48 semester hours)
The Bachelor of Arts in Organizational Management major includes:
12 semester hours of required organizational management courses
Six semester hours of selected electives
Professional internship, to be completed in the junior or senior year
Supporting coursework in communication, mathematics, sociology, psychology, writing and philosophy is strongly recommended.
The Bachelor of Science in Organizational Management major includes:
All of the requirements of the bachelor of arts program
Nine to 10 additional semester hours in operations research, statistics and calculus
The minor in organizational management includes:
18 semester hours, including nine semester hours of general business courses and nine semester hours of organizational management electives
Up to nine semester hours can be applied to both the business administration major and the organizational management minor
Career Opportunities
Our graduates pursue careers in management and human resources, as well as graduate studies in business, public administration or law.