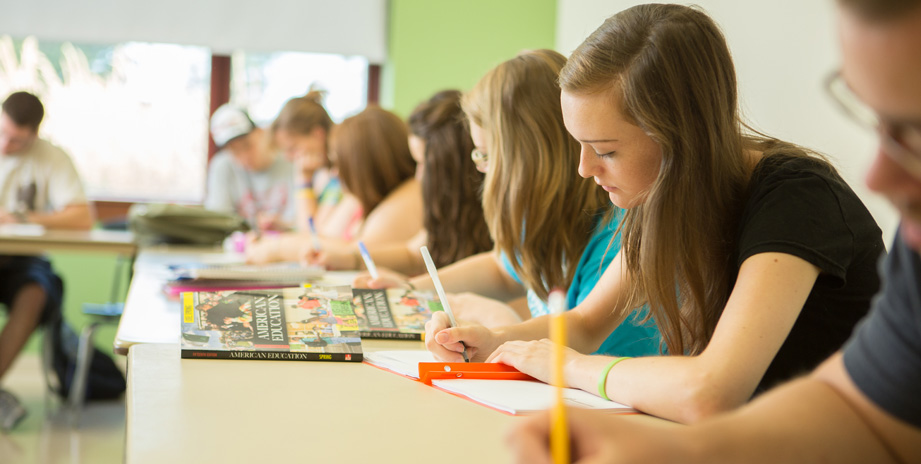 History of Academic Excellence
Aurora University has a history of high-quality academic programs — centered on students like you.
With an Aurora University education, you will:
Build critical thinking and communication skills
Foster intellectual and ethical development
Engage in life-changing, hands-on learning experiences 
Be prepared for a life of meaning, leadership and service
If you're still deciding on your major, don't worry. AU will give you the opportunity to explore many different programs and majors so that you can discover — or clarify — your passion.
Academic Programs
With just 4,900 students, we are small enough to offer you the personal attention and support you need to succeed —but large enough to offer:
Transformative Faculty
Our student-faculty ratio is 15:1 and our average class size is 23 students. That means you'll get to know your professors — and they'll get to know you and how you learn best. Our faculty members are award-winning scholars but that doesn't mean they're unapproachable. The truth is they're teachers first who are dedicated to helping students like you succeed.
Strong Partnerships
AU believes your needs as a student are best served through partnerships with like-minded institutions and organizations. Our social work students, for example, collaborate with area social services agencies. Our partnership with School District 129 is a model for educational reform. That partnership, coupled with a partnership with District 131, allows our elementary education majors to:
Experience elementary school culture
Interact with elementary school children 
Observe teaching and learning styles
Be mentored by experienced faculty members
Network and make contacts
Distinctive Opportunities
Aurora University believes in surrounding you with the support — and opportunities — you need to get the most out of your college experience. These include: