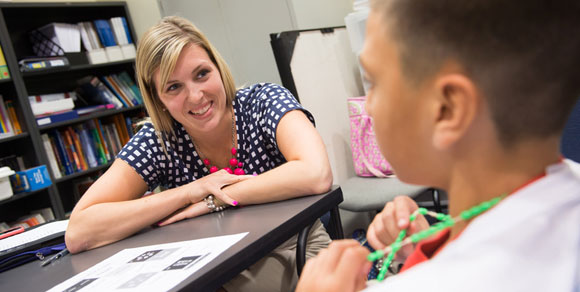 Literacy coaches and reading specialists help young people gain the skills necessary for becoming engaged and successful lifelong readers. Whether working with students or in a collaborative role with teachers, coaches and specialists can impact the lives of many students.
This master's degree program provides students with numerous experiences linking literacy theory to practice as they engage in activities with their students, colleagues and other school personnel. The practicum courses prepare candidates to assess and tutor struggling readers, and the leadership courses provide them with the knowledge and skills needed by literacy coaches and reading specialists who must assume leadership responsibilities.
Literacy coaches and reading specialists face many challenges as they interact daily with students, parents, teachers and school personnel; however, the chance to see a student break into a smile while reading or hear the words of gratitude from a parent are reasons to consider this highly rewarding work.
Classes are offered on the Aurora University campus, Aurora University Woodstock Center and at off-campus sites throughout the university's operating region in Illinois. They are delivered collaboratively via a partnership between Aurora University and an individual school district or a consortium of small districts. Courses are delivered by School of Education faculty.
Reading Clinic
The Master of Arts in Reading Instruction program operates a reading lab on the Aurora campus where area school children receive assessment and tutoring. The clinic is available to students in first grade through high school experiencing reading difficulties. For more information on how to enroll a student in the program, please see the Reading Clinic page.
Open House and Visit Days
No events scheduled at this time.
Additional Program Offerings
Cohorts now forming in Lake County, Ottawa and Washburn ROE.
Contact Andi Danis at 630-844-3857 or
adanis@aurora.edu
or Marcia Gaspari at 630-844-4643 or
mgaspari@aurora.edu
for more information.

Woodstock Center
Contact Marcia Koenen at 815-337-6049 or mkoenen@aurora.edu for more information.