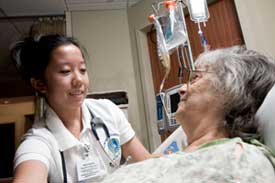 There comes a time in a nursing career when you start looking for that extra something. You want to learn more, do more with your career and make a larger contribution to the profession. If that time is now, consider the Master of Science in Nursing degree from Aurora University. 
Our program is designed to prepare graduate nurses for administrative and/or nursing educator roles within academic and health-care environments. Two distinct tracks are offered: Administration and Nursing Education. Graduates will possess a comprehensive understanding of the role for which they have prepared and the competencies to develop successful careers and make meaningful contributions to the profession, organization and society.
The MSN program is specially designed to meet the unique needs of the adult learner. Classes are scheduled on weekday evenings at Aurora University Woodstock Center, located in the Challenger Center for Science and Technology, just one block off the Woodstock Square in McHenry Country. The program is also offered online and at the Aurora University campus in Aurora, IL. Practicum experiences are scheduled for a full semester to allow students ample time to complete the requirements. Using this design, the required 36 semester hours can be completed in two years. 
The program affords the graduate student access to the university community and its many resources within an academic environment that has a strong tradition of outstanding graduate programs in several fields.
Open House and Visit Days
No events scheduled at this time.
Additional Program Offerings