*The Schingoethe Museum and Art Gallery is currently closed until the fall of 2014.*
Programs continue during this closure, including:


Lecture by Brian Dettmer, Contemporary Artist
Monday, October 28, 2013; 7:30 p.m.
Crimi Auditorium in the Institute for Collaboration (1347 Prairie St.)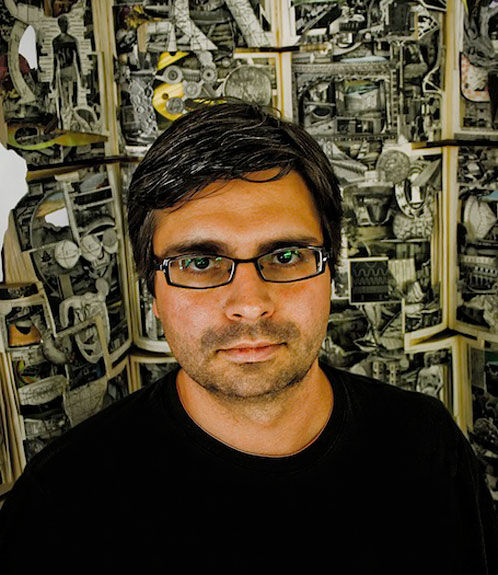 Known for his detailed and innovative sculptures using books and other forms of antiquated media, Brian Dettmer has established himself as a leading international contemporary artist. Dettmer will share approximately 50 images in roughly 50 minutes as a way to introduce his work. We will witness the creative evolution of his art from paintings about books to books as sculptural material. Incorporated in his talk will be ideas surrounding the history and future of the book as it coexists with technology in the 21st century. He states, "My work is a metaphor for the way we remember, the way we record and tell stories, the way technology evolves and the way we have evolved to make sense of the world."

This lecture is part of the Arts and Ideas series. To register, visit auartandideas.com, email artsandideas@aurora.edu or call 630-844-4924.

Aurora University is pleased to announce that the Schingoethe Museum and Art Gallery will be relocated to the new Welcome Center, a 21,000-square-foot building that will serve vital purposes, in the fall of 2014. One wing of the Welcome Center will house the Schingoethe Museum with collections and exhibits oriented around a large central art gallery.
Watch this page for updates!
Questions? Please call 630-844-7844 or email museum@aurora.edu.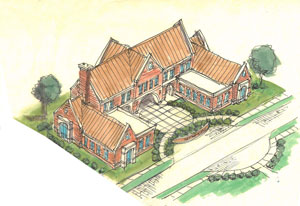 Our Mission | Contact Us | History | Museum Shop | Library


We invite you to visit the Center to enjoy our current exhibits, including an expanded version of Native Peoples of Illinois, our Nizhoni Gallery exhibits on the Southwest Culture Area and Children of Native America. We're proud of our award-winning exhibits and programs:

"Native Peoples of Illinois: 1673-1835," Award of Superior Achievement from the Illinois State Historical Society (2001), Curators: Dona Bachman, Mary Kennedy and Meg Bero
"Museum of the Mysteries," Awards of Superior Achievement from Illinois Association of Museums and Illinois State Historical Society (2002, 2003), Curator: Meg Bero
"M.A.I.Z.E. (Museum Artifact Inquiry ZonE) educational project," Awards of Superior Achievement from Illinois Association of Museums and Illinois State Historical Society (2002, 2003)
Nizhnoni Gallery and "The World of the Kachina," Award of Excellence from Illinois Association of Museums (2003), Curator: Meg Bero
"Unraveling Revelations: Decoding the Prophetic Charts," Award of Excellence in Exhibitions from Illinois Association of Museums (2012), Curators: Museum Exhibitions students

Our Mission

 

The Schingoethe Center serves both as the University's museum of Native American culture and as a setting for research and teaching related to the study of cultural artifacts and related texts. With a primary responsibility to enrich the teaching and learning experience of Aurora University students and faculty, the Center also serves as an important resource for area schools and colleges, researchers, Native American groups, and the general public. In its museum and educational work, the Center is committed to maintaining the highest standards of professional, scholarly and ethical excellence.

---

C

ontact Us

Front desk: 630-844-7843
Fax: 630-844-6529
Send us an e-mail!

Schingoethe Center
Aurora University
347 S. Gladstone Ave.
Aurora, IL 60506-4892

Schingoethe Center Staff

Meg Bero
Executive Director
mbero@aurora.edu
630-844-7844

 


Schingoethe Graduate Fellow

630-844-7845

---

History

 Connoisseurs and collectors of Native American cultural artifacts, Herbert and Martha Schingoethe had long felt that Aurora University was a great educational asset to the community and region. In 1989, this belief, along with their desire to encourage others to learn about America's original inhabitants, prompted them to commission the building of Dunham Hall. Named in honor of Martha's family, Dunham Hall provides the setting for the Schingoethe Center for Native American Cultures, which opened to the public in 1990, as well as for the University's Dunham School of Business. The Schingoethes donated their collection of over 6,000 items of Native American arts, artifacts, and related materials and, in addition, provided major support for the Center and its activities.


Martha Dunham Schingoethe passed away on February 17, 2004, Herb on March 18, 2005. In the years following the establishment of the Center, they had continued to take a close and active interest in the museum and its programs, and we will miss them very much. On the video kiosk in the museum you may also view selections from a video interview with Herb and Martha. The Schingoethes made a major contribution, both to the educational enterprise of the University and to the cultural life of the Aurora community, through their collections and their support of the Center. We invite you to come and share in this rich legacy.
Fox Valley Arts Hall of Fame

On January 22nd, 2010, Herb and Martha Schingoethe were inducted into the Fox Valley Arts Hall of Fame class of 2010.  This posthumous award honors their generous service to the arts and culture of the Fox River Valley by recognizing their partnership with Aurora University to create the Schingoethe Center for Native American Cultures.  They are the first to be honored under a new category entitled "Arts Patrons and Benefactors."  Meg Bero, the Executive Director of the Schingoethe Center, was on hand to accept their award.

To view the Fox Valley Arts Hall of Fame homepage, please follow this link: Fox Valley Arts Hall of Fame

To view Herb and Martha's biography, please follow this link: Herb and Martha Schingoethe