Beaded Hand Bag

1997.1.1
Yakama, Plateau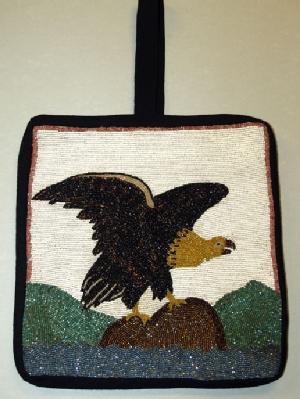 The beaded bag tradition of the Yakama nation blossomed in the middle of the nineteenth century. During this time, traders and settlers began pushing west, bringing fabrics and glass seed beads with them. With these materials readily available, the women incorporated them into their artistic practices. Traditionally, these bags were created for personal use but they were also given as gifts at important events.
The seed beads, in particular, allowed them to create colorful, intricate, and unique designs. They experimented with floral and animal motifs, which were a dramatic departure from the more traditional geometric designs. Our beaded bag exhibits an impressive bald eagle designed using blue, green, brown, white, black, bronze, and yellow beads.
Gift of Marvel Davis.