"Fremont Man"
Artist: Jaune Quick-to-See Smith
Flathead/Cree/Shoshone
Plateau
2010.5.1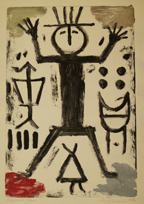 Jaune Quick-to-See Smith creates art concerning the political and cultural realities of being Native in America. She asserts that she lives in two cultures, her Native culture and the Eurocentric culture surrounding her. She is not shy about confronting the sometimes contentious intersection between the two. This boldness has propelled her art making and catapulted her onto the art scene.
Smith's artistic influences include abstract expressionism and petroglyphs, one of the oldest surviving examples of artistic expression in North America. The featured monoprint is a good example of this inspired convergence, with both styles challenging one another. The figures are highly stylized, the palette is an appealing mix of earth colors, and the application of line and color is masterful in its economy.