Southwestern Prehistoric Pitcher
850-1250 A.D.
1989.2.29
Materials: Clay and slip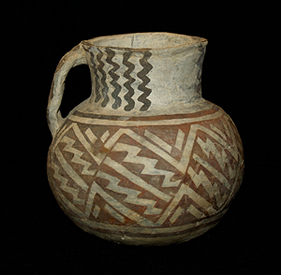 Although the Southwest is well known for its pottery, prehistoric pottery was made in the Eastern Woodlands several hundred years prior to being made by the people in the Southwest.  It is the Northeast Woodlands region's changing styles that have been reflected in the pottery of the Southwest.  There have been several periods of pre-historic pottery styles.  Ours is a polychrome pitcher created between 850-1250 A.D., in the beginning of the painted age of pottery, replacing corrugated wares and plain ware pottery.  This time period was the heyday of black-on-white pottery-making.  Mineral paint was commonly combined with a gray or white paste giving the pottery its grayish tint.  Our pitcher was found and reconstructed in Arizona on the San Carlos Indian Reservation.
Our pitcher, a round bodied, handled pitcher with a geometric design of black and red-brown on a gray-white slip, uses thick solid lines and stepped elements.  In this motif, the negative space becomes a strong design element.  The design consists of diagonal and wavy stepped lines and zigzags filled in or left open on the body, handle, and neck.  These geometric designs resemble the traditional pottery styles still used by the Southwest peoples today.
Please visit our "It was only a new world to Columbus..." exhibit to see this artifact and learn more about prehistoric pottery.