Beaded Collar
Ca. 1900
Southwest, Mojave
2000.4.14
Materials: Glass seed beads, string and cotton cloth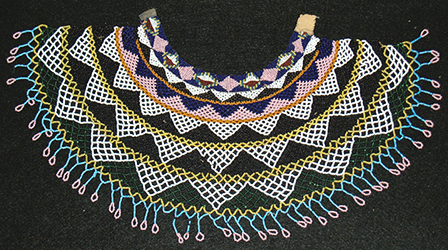 Native Americans have been using beads in their clothing and accessories for hundreds of years.  At first, they used natural objects such as bones and shells for their beads.  It wasn't until the 1800s that the glass bead was introduced to Native Americans by the Europeans.  The most popular was the small seed bead used to make the most intricate designs.
Our beaded open-work collar, created in the early 1900s, is a product of the Southwest Mojave tribe from Southwestern Arizona.  It was created with glass seed beads, strung through thin cotton thread.  In order to create these beaded collars, the Mojave used a diagonal weaving technique called the bias-weave to create their thin diagonal lines and triangular shapes.  The beads and the colors themselves have no particular significance.  Each piece is unique to the artist who created it.  The designs and colors do not necessarily have to match the colors and designs of the rest of the wearer's outfit.
A beaded collar could either be fairly simple, like our artifact, or have elaborate designs such as human figures or other complex symbols.  Typically, women created the beadwork and Mojave women were especially known for making intricate beaded collars to wear around their necks.  The weaving and wearing of these beaded collars is an art that still survives in Mojave traditions today.
Please visit our exhibit All in a Day's Work: The Art of Native American Beading to see this artifact and more beaded clothing accessories.