Lattice Style Cradleboard
1995ca
Lakota
2004.7.9
Artist: Bill DuBray
Gift of Dr. and Mrs. William Ball
Materials: Wood, cloth, glass beads, bone, metal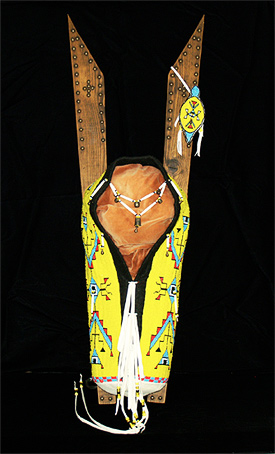 Cradleboards are baby carriers used to keep infants secure and comfortable; thus allowing the mothers freedom to work and travel. When working, women carried the cradleboard on their backs or rested them against trees. While traveling, cradleboards could be hung from a saddle allowing the baby to safely ride by horse.
While in a cradleboard the baby had a sense of safety and security, much like when an infant is swaddled in a blanket today. Soft materials such as lichens, moss and shredded bark were used for cushioning and diapers. Cradleboards were either cut from flat pieces of wood or woven from flexible twigs like willow and hazel, and cushioned with soft, absorbent materials. Depending on tribe, they can be decorated with beadwork, quillwork, weaving, woodwork, or ribbon and cloth designs. Cradleboards may also be decorated with symbols, colors, or objects to bring good luck and a good life to the child. The amount of detail and work that go into the creation of a cradleboard signifies the care and attention given to the youngest members of the family.
Typically, a child would be in a cradleboard from birth until they were able to walk, although many mothers continued to cradleboard well past their child's first birthday. Even when a child became old enough to undo the ties and crawl out, it was not uncommon for them to want to return to the security of their cradle. Young girls would carry their dolls in miniature cradleboards so they could practice lacing them.
Our cradleboard is a lattice style wood cradle with a fully beaded fabric cover. The background of the beadwork is a bright yellow with light blue, red, black, and white geometric designs. The top of the opening is decorated with hair pipe beads, brass bells, and a single brass thimble. Attached to the cradleboard is a matching beaded turtle amulet.  
Please visit our
Children of Native America
exhibit to see more cradles.