Lewis and Clark Commemorative Tray
1904ca
1989.1.113
Metal, silkscreen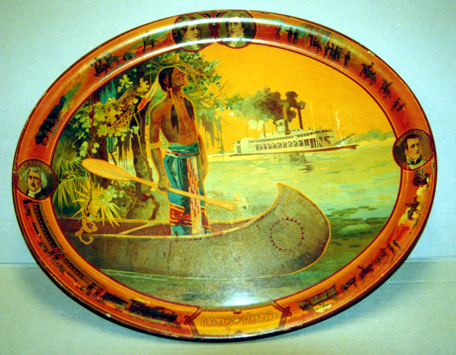 After the United States acquired the territory known as the Louisiana Purchase from France in 1903, Thomas Jefferson wanted to explore this new real-estate and find an all water route to the Pacific Ocean.  Rumors spread throughout America of volcanoes, mountains of salt and woolly mammoths existing west of the Mississippi River; Thomas Jefferson realized that he would need skilled explorers to lead this expedition. He called on experienced U.S. army captains Meriwether Lewis and William Clark to head the Corps of Discovery.
On March 10, 1804, Lewis and Clark attend a ceremony in St .Louis celebrating the transfer of ownership from France to the United States. Two months later the expedition set out from Camp Dubois, Illinois Territory; thus, beginning the voyage that forever changed North America.  Along the way Lewis and Clarke established trade with various Native American tribes and created maps of the terrain thereby opening the Louisiana Territory to westward expansion. 
In 1904, St. Louis hosted the World's Fair to celebrate the centennial of the Louisiana Purchase. The fair was supposed to open in 1903, however, was delayed a year to ensure completion of all the preparations for the celebration. This tray commemorates the Louisiana Purchase Centennial.  The center of the tray is a silkscreen of a Native American man in a canoe overlooking a river, possibly the Mississippi River.  In the background is a steamboat, suggesting a contrast between the Native American way of life and modern technologies.  This theme of progress and westward expansion is repeated in the decorations on the rim of the tray.  There are four portraits on the rim: Meriwether Lewis, William Clark, Napoleon, and Thomas Jefferson.  In between these portraits are four scenes depicting the progression of the West: Native Americans on horseback hunting buffalo; the Corps of Discovery exploring the Louisiana Territory; covered wagons with pioneers heading west; and finally, a steam engine train.