Class Clown
Pawnee/Yakama
Contemporary
Bunky Echo-Hawk
2008.16.1
Acrylic, canvas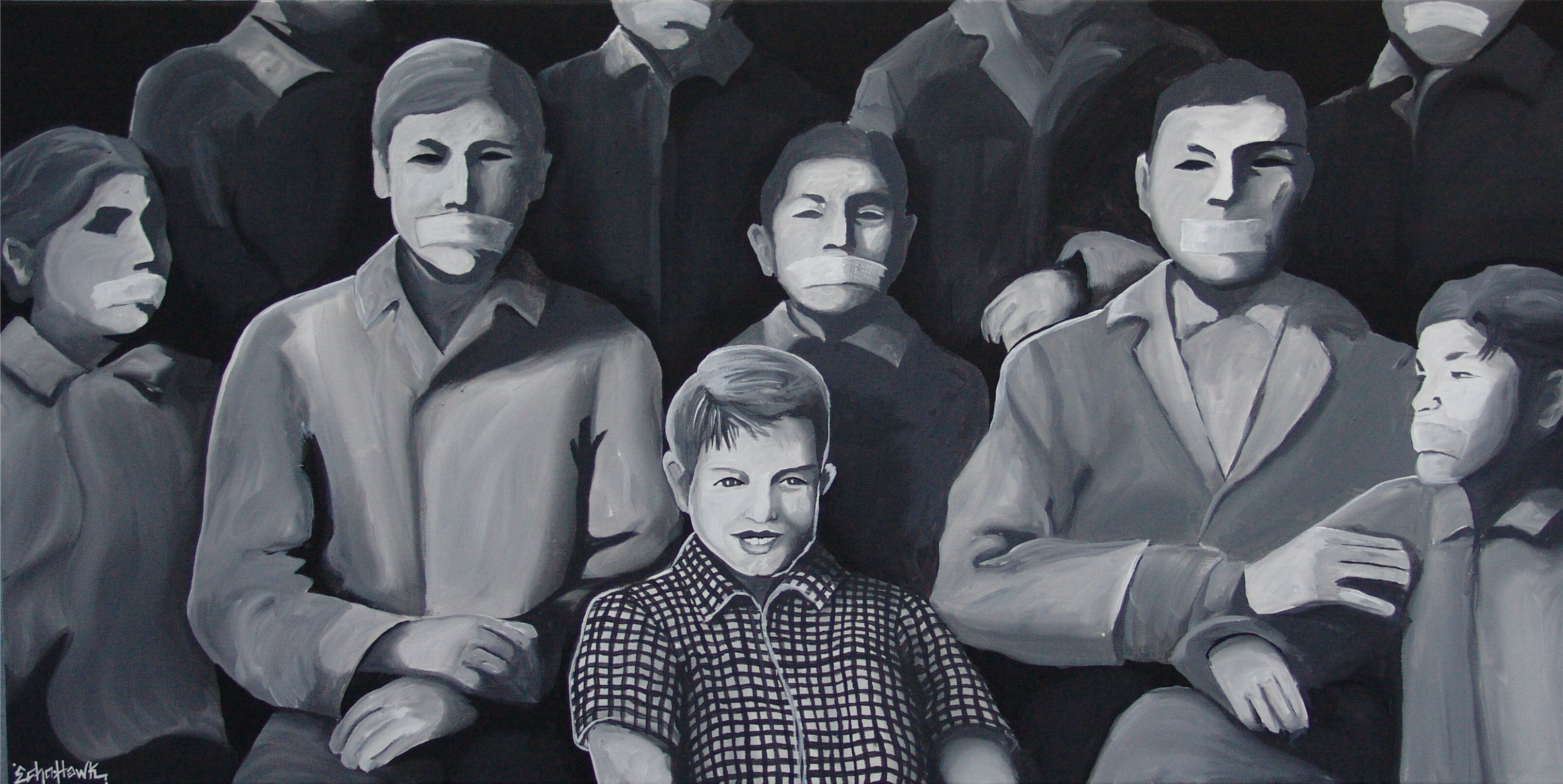 This month's artifact is Class Clown, a painting created by the multi-talented artist, Bunky Echo-Hawk. He has a background in fine art, graphic design, photography, writing, and traditional song and dance.  In both his life and his art, Echo-Hawk is known for blending traditional with contemporary.
As a painter, Echo-Hawk addresses stereotypes by contrasting icons of popular culture with traditional ideas and romanticized images of Native Americans. For example, in Class Clown the figure in the foreground is called "Beaver Cleaver" referring to the main character from the 1950's television show Leave it to Beaver.  This cheerful figure is in stark contrast to the boys in the background wearing military style uniforms and short hair with taped mouths.   These young men represent the tens of thousands of Native American children that were forced to attend Indian Boarding schools.  Upon arrival to the boarding schools, children were required to cut their hair and change into uniforms. They were also punished if caught speaking their language, as Echo-Hawk symbolizes with the taped mouths.
Class Clown was part of Echo-Hawk's exhibit Weapons of Mass Media which was on display at the Schingoethe Center in 2008. This exhibit looked at contemporary Native American culture and its misrepresentation or absence in mass media.  In addition to displaying his powerful works of art, Echo-Hawk created a painting on stage at Aurora University with a milieu of music, poetry, and images of previous artwork.
Not surprisingly, Echo-Hawk is an advocate and an educator in addition to being an artist. Through the sale of his art, he has raised money for numerous non-profit organizations.  In 2006, Echo-Hawk co- founded NVisions, a non-profit collective of Native American artists, musicians, and community organizers that strive to empower Native American youth through the arts.
For more information about upcoming events and guest speakers at the Schingoethe Center for Native American Cultures visit our website or call (630) 844-7843