"Turquoise Bear"
Southwest
Tony Da (1940-2008)
1977
2008.1.173
Materials: paper, watercolor, turquoise stone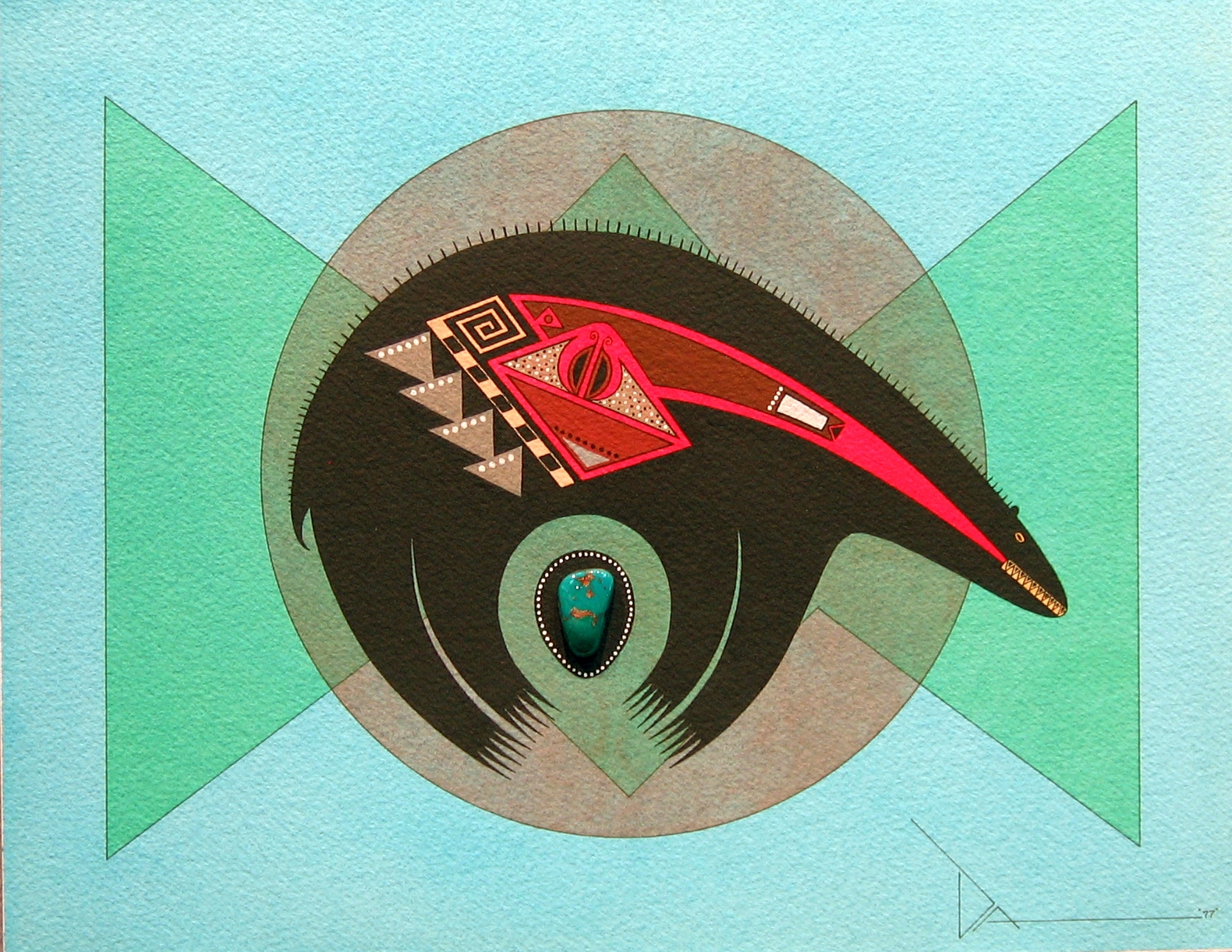 Tony Da was born into a family of talented and respected artists. His grandmother was the famous potter Maria Martinez known for her black on black pottery. Tony's grandfather, Julian Martinez, was one of the first watercolor painters from San Ildefonso. Maria and Julian combined their talents to create beautiful works of pottery.  Tony's father, Popovi, grew up assisting his parents with their art; he dug clay, gathered temper and fired pots.  When old enough to attend school, Popovi attended San Ildefonso Day School; there he studied watercolors. In 1948, Popovi and his wife, Anita, opened Popovi Da Studio of Indian Art to promote local artists including Maria's pottery.  
Like his father, Tony also learned pottery, painting, and silversmithing techniques by helping his family. Growing up he experimented with jewelry making and painting the most. Tony drew upon this experience to create unique pieces of art by setting stones into paintings or pieces of pottery. Tony was the first Puebloan potter to utilize inlayed turquoise in pottery. Tony continued the family tradition of creating beautiful works of art until a motorcycle accident ended his career in 1980.
Tony's ability to utilize stones in other forms of artistry than jewelry is exemplified in this piece. The focal point of the watercolor painting is a beautiful teal colored turquoise nugget. Surrounding the stone is a black bear with red, grey and tan geometric designs. This piece is featured in the exhibit Celebrating 20 Years: Looking Back, Moving Forward, September 21-December 10, 2010.