Iroquois Beaded Whimsy
1907
Iroquois, upstate New York
Materials: fabric, beads, wood
1998.10.35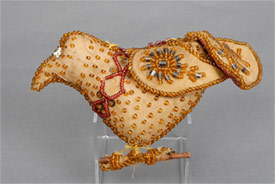 When French and Dutch traders came into contact with the Iroquois tribes in what is now New York, they found that for a handful of a few choice colored glass beads, the Iroquois would give them beaver pelts, which were highly prized in Europe at the time. In turn, the Iroquois women would use these translucent beads to decorate their clothing and other personal items. Before the traders introduced glass beads to them, the women would flatten porcupine quills and then dye them with natural earth colors.
Trade relations soon broke down and by the late 19th century, the Iroquois were removed to reservations; however, the women continued to include beads into their designs. In order to provide for their families, the women began beading whimsies, which were small tourist mementos. They took the forms of change purses and pincushions, among others. They sold them to European and American tourists who traveled to upper New York to view the popular attraction of the time, the Niagara Falls.
Our whimsy is a popular pincushion design in the shape of a bird. It is generously beaded with red, amber, blue and white beads. The fabric pattern is a buttery yellow and the body is sewn to a small wooden pole resembling a perch. The date of its creation is sewn on the fabric, which was a common practice with these objects. It is small enough to fit in the palm of the hand but large enough to exhibit detailed patterns on the body, such as the flower design on the wings.