Corn Husk Bag
ca. 1900
Nez Perce
1990.41.11
Materials: corn husks, yarn, leather straps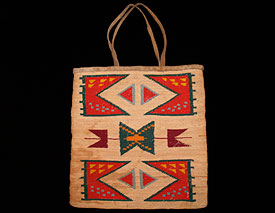 Corn husk bags are a distinct style of the Plateau tribes.  Created in the late 18th century they use a loose warp and twining technique.  They were originally woven with root and grass but with the formation of reservations the traditional materials were not as accessible and weavers used a substitution of cloth twine, wool and the inner layers of cornhusks.  The husks were dried flat and bleached in the sun, then using a technique called imbrications or "false embroidery," they wrap the dyed wet husks around portions of the bag to create a colorful layered design on top of the original weave.
Corn husk bags evolved from food storage containers to recognized works of art.  They were revered as a marker of wealth, status and cultural identity.  Beaded flat bags overtook corn husk bags in popularity by the end of the 19th century.  In the last 20 years, Plateau artists have revived corn husk weaving in an effort to preserve cultural art practices.
This corn husk is bag is from the Schingoethe Permanent Collection and was created by Nez Perce weavers.  Each bag hosts two separate designs, one on the front and one on the back.  It is said that no two patterns are the same, as they are woven via improvisation.