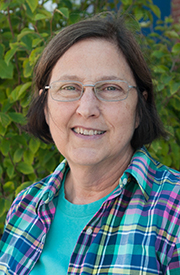 Chair, Special Education; Assistant Professor of Education
School of Education
Office Location: Institute for Collaboration, Room 222E
Telephone: 630-844-5269
Fax: 630-844-6138
Email Address:  kbradley@aurora.edu
For the 10 years before joining the faculty in the College of Education at Aurora University, Kathleen Bradley taught at Northwestern University, serving as both the undergraduate advisor for her specialty area of learning disabilities, and teaching in the Master's program for students receiving certification as a Learning Behavior Specialist I. Her interests include the impact of learning disabilities on social skills of students, including issues of self-image, locus of control, and self-determination. She is also interested in the perceptions people have of students with learning disabilities and how these perceptions influence their behavior toward the students.  Having spent another 20 years teaching and working in Chicago, she also believes strongly in social justice as a philosophy that should guide our lives.
Education

Ph.D., Northwestern University
A.B., Princeton University
Areas of Specialization

PhD, Communication Sciences and Disorders, Program in Learning Disabilities, Language and Cognition Certificate, Cognate in Social Psychology
A.B., Psychology
Courses Taught

Cognitive Development and Disabilities
Diversity and Disability
Oral Language Development and Disorders
Promoting Prosocial Behavior
Psychoeducational Assessment of Students with Disabilities
Highlights of Publications, Honors and Professional Contributions

Bradley, Kathleen (2008).  Teaching collaboration, believing in the transformative power of learning: Special education preservice training at Aurora University.  Success in High Needs Schools (On-line Journal), Associated Colleges of Illinois.
Bradley, Kathleen (2004).  The role of school, family, and individual factors in the academic success of middle school students at three achievement levels and of special education students with mild disabilities.  Doctoral thesis.  Evanston: Northwestern University.
Stone, C. A., Bradley, K., & Kleiner, J. (2002) Parental understanding of children with language/learning disabilities and its role in the creation of scaffolding opportunities. In B.Y.L. Wong & M. Donahue (Eds.), The social dimensions of learning disabilities (pp. 133-160). Mahwah, NJ: Lawrence Erlbaum Assocs.
Highlights of Campus Involvement

Chairing committees to establish the Special Education program at AU
Council on Certification
COE IRB Committee
Environmental Sustainability Committee
Other Interests

Traveling, preferably camping-although having covered the US and Canada, am moving off the continent….
Photography
Cooking, gardening, refinishing wood
Alumni Schools Committee for my University-interviewing applicants