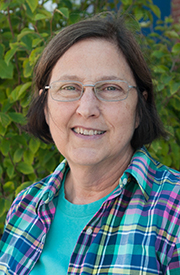 Chair, Special Education and Disabilities Studies; Assistant Professor
Office Location: 222E Institute
Phone Number:630.844.5269
Email Address: kbradley@aurora.edu

Teaching Philosophy
As is true for anyone, I feel children learn best by constructing their own understanding.  What I think is critical for a teacher to remember is that learning is a two-way street.  Despite the fact that a teacher will be the "more knowledgeable" partner, s/he will learn from her or his students as well—as a matter of fact, I have almost always felt that my students, big and little, gave me more than I ever gave them.  Learning is a shared enterprise. I want our future teachers to show the world not only that all children can learn but also that all children can be productive, valued members of society.  I feel that our future teachers also need to be leaders in their schools and communities, working for the social justice of people with disabilities.  I firmly believe in the AU motto that learning is transformative.  People—not forgetting that this includes children—deserve and need to have choices in their lives.  While people's preconceptions of what people with disabilities cannot do may be the most limiting factor they face, this issue comes in a close second:  without choices, people tend to lose hope that change is possible.

Education
Northwestern University, PhD
Roosevelt University MA
Princeton University, A.B.

Areas of Specialization
Communication Sciences and Disorders—Learning DisabilitiesLanguage and Cognition Certificate

Courses Taught
SPED 2200 Cognitive Development and Disabilities
SPED 3350 Introduction to Educational Research
SPED 3510 Disability and Diversity/Multicultural ESL
SPED 3610 Oral Language Development and Disorders/ ESL Linguistics
SPED 3620 Language Development and Diversity


Highlights of Publications, Honors and Professional Contributions
Bradley, K., Chakravarthi, S., Pearce, E., Snakenborg, J. & Hogan, T. (July, 2013).  Colleges Collaborating for Teacher Preparation: Keys to Success.  Presentation at Project Director's Conference, Office of Special Education Programs, Washington, D.C.     

Chakravarthi, S., Pearce, E., & Bradley, K. (July, 2012). Addressing the challenge of meaningful inclusion through teacher knowledge of evidence-based practices.  Presentation at Project Director's Conference, Office of Special Education Programs, Washington, D.C.     

Bradley, K., Fee, J., Prolman, S., & Thomas, J. (April, 2011).  Diversity and dualism:  A marriage made in hell? Presented at Inciting the Social Imagination: Education research for the public good, 2011 Annual Meeting of the American Educational Research Association, New Orleans, complete paper access on-line.     
Bradley, Kathleen (Fall, 2008).  Teaching collaboration, believing in the transformative power of learning:  Special education pre-service training at Aurora University.  Success in High Needs Schools (On-line journal), Associated Colleges of Illinois.

Highlights of Campus Involvement
General Education Committee
Faculty Senate
LBSI Support to the Dunham STEM School