Denise L. Hatcher, Ed.D.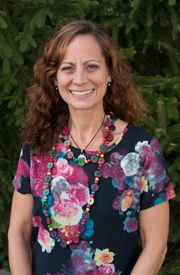 Associate Professor of Spanish
College of Arts and Sciences
Office Location: Eckhart Hall, Room 412
Telephone: 630-844-2311
Fax: 630-844-5242
Email Address: dhatcher@aurora.edu
 I was introduced to the Spanish language in seventh grade where I loved the variety of new activities for what quickly became my favorite subject matter. When choosing a college major, I could see myself doing nothing but teaching the Spanish language. Since I arrived at AU in 1995, we have added both a minor and major area of study in Spanish. In each class I teach, I try to instill a love of the language and to help students understand how they learn best so that they find practical ways to continue using and learning the Spanish language even beyond their college careers.
Education
Ed.D. Adult and Higher Education - Northern Illinois University
M.A. Spanish Language and Literature - Northern Illinois University
B.A. Spanish Language and Literature, Secondary Education - Northern Illinois University
Areas of Specialization
Second Language Acquisition
Language Pedagogy
Comparative Grammar
Service Learning
Courses Taught
Elementary Spanish
Intermediate Spanish I
Intermediate Spanish II
Advanced Spanish Skills
Survey of Latin American Literature
Spanish Language Films
Advanced Spanish Literature
Latin American Civilization and Culture
Language and Community Immersion
Comparative Grammar Structures
Spanish Travel/Study
Spanish Capstone Seminar
Highlights of Publications, Honors and Professional Contributions
"Community and Language Immersion: Actively Using Spanish in Our Community" presented at the international conference of the American Association of Teachers of Spanish and
Portuguese in Costa Rica, July 2008
"Taking Classroom Knowledge to Others: A Service-Learning Project Promoting Literacy and Character Traits to Native Spanish Speakers" presented at the national conference of the American Association of Teachers of Spanish and Portuguese in New York, July 2005
"South of the Border ~ A Shared Heritage: A Research Endeavor that Allowed College Students to Move Beyond the Boundaries of a Formal Educational Environment and to Participate in a Museum and Problem-Based Learning Opportunity Centered Around Cultural Diversity" presented at the international conference of the American Association of Teachers of Spanish and Portuguese in Acapulco, Mexico, July 2004
"A Challenge for School Leaders: Gender Equity Issues Remain" published in the American Association of School Administrators, Fall 2006, co-authored
Schingoethe Fellowship Recipient, 2008, 2006, 2005
Highlights of Campus Involvement
Marcus and Mark H. Trumbo Excellence in Teaching Award, 2008
Student Association Meritorious Faculty Award, 2005
Phi Eta Sigma Honorary Member, 2005
Circle K Advisor (2005 - present)
Spartanette Coach (2003 - present)
Other Interests
Running
Biking
Traveling
Reading
Writing