Lisa Fredenburgh, D.M. A.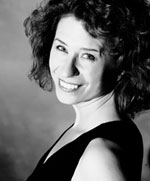 Associate Professor of Music, Program Chair, Director of Choral Activities
College of Arts and Sciences
Office Location: Parolini Music Center, Room 111
Telephone: 630-844-4577
Fax: 630-844-7830
E-mail: lfredenb@aurora.edu
The art of music is deep and complex and deserving of a careful and yet exuberant study. This art draws us to itself and invites us in to explore. The endeavor of its study is humbling, fulfilling and teaches us how to connect in new ways to each other even as we learn to connect music to our own inner self. Connection to the emotional and intellectual stream of music reveals something new to its students daily if we are focused on the task and vulnerable. Not a day goes by that I do not hear something that thrills me in music. I hope for my students that they gain skill and excellence of not only the technical means, but also to the end of honest expression and connection to music and support each other in that work. 
Education:
D.M.A. Conducting, The University of Arizona
M.M. Vocal Performance, The University of Arizona
M.M. Conducting, The University of Arizona
B.A. Music Education, Luther College, Decorah, IA 
Areas of Specialization
Choral Conducting
Vocal Performance
Latin American Choral Music
Courses Taught
AU Chamber Choir
AU Women's Choir
Applied Study in Voice
Sight Reading
Music Appreciation
Highlights of Publications, Honors and Professional Contributions:
Conducted All-State choirs in New York, Arkansas, Georgia, North Carolina and Regional Honor choirs in the Midwest and East Coast
Guest-conducted National Choir of the Dominican Republic
Cultural specialist for United States Information Service in Bolivia
National Chair for Women's Choirs Repertoire and Standards Committee: ACDA 2000-2006
Steering Committee: Assistant Program Chair for 2009 National ACDA Convention, Oklahoma City, OK
Member of Grant Park Symphony Chorus, summer 2009
Member of Kansas City Chorale, 2008-09 season
Other Interests
Wellness
Gardening