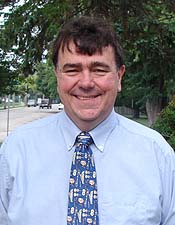 Professor of History
Office Location: Dunham 213
Phone Number: 630-844-6869
Email Address: mforward@aurora.edu
Teaching Philosophy
I was fortunate to be taught by professors with a sense of humor and a disciplined imagination, who taught me to critically evaluate evidence, yet always be open to mystery and wonder. They also liked most of their students, and loved teaching and mentoring them. I have tried to follow their example.
Education
Ph.D. University of Bristol, UK (Religious Studies)
M.Litt with distinction. University of Lancaster, U.K. (Islamic Modernism in India)
M.A. University of Cambridge, U.K. (Theology and Religious Studies)
B.A. University of Manchester, U.K. (History)
Areas of Specialization
South Asian History and Religion
African Traditional Religion
Inter-religious History and Encounter
Courses Taught
Trajectories of Human History
Africa in World History
India since 1500
The Ancient Mediterranean World
Senior Seminar in History
Highlights of Publications, Honors and Professional Contributions
Authored or edited nine books, some translated into Spanish and Russian.
Most recently:  The Nature and the Name of Love: religion for the contemporary world, Peterborough: Epworth, 2008. Also, numerous articles and essays
Program maker and presenter for the BBC World Service radio: "Gods, guides, and gurus"; and, "Missionaries"
Honorary member of the Islamic Association of Singapore
Teape seminars, University of Cambridge, U.K., 1999
Teape Lecturer, University of Delhi, India, 2002
Highlights of Campus Involvement
Senator 2014