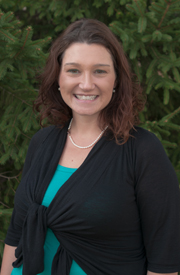 Director of International Programs and Assistant Professor of Foreign Languages
Office Location: Institute for Collaboration 123
Phone Number: 630-844-6193
Email Address:
tschroth@aurora.edu
Teaching Philosophy
I believe in the transformative power of the study of foreign languages and study abroad. In my classes, I use a variety of teaching methods and activities to reach my students. Students learn to communicate in the target language and, since I very much enjoy sharing my love of languages and cultures with my students, my classes are quite interactive and full of cultural lessons. I am available to assist students and colleagues and take pride in being an active member of my college's community. I treasure the gift of teaching and helping students achieve their future goals.
Education
PhD, French (PhD minor in Spanish), 2010 - Louisiana State University, Baton Rouge, Louisiana
EdS, (Education Specialist) in Curriculum and Instruction, 2007 - Louisiana State University, Baton Rouge, Louisiana
MA, French, 2002 - Arizona State University, Tempe, Arizona
BA, French and Spanish, 1999 - St. Norbert College, De Pere, Wisconsin
Areas of Specialization:
Francophone literature (particularly French-speaking immigrant literature)
French film
International education and experiential learning abroad
Second language acquisition (French, Spanish and ESL)
Sociolinguistic Francophone studies
Courses Taught
All French courses: FRN1120, 1220, 2200, 2500, 3XXX level; Spanish language courses
Highlights of Publications, Honors and Professional ContributionsHonor:
Aurora University Faculty Award, 2012 (Nominated Faculty Inductee, Phi Eta Sigma)
Publications:
Smith, B., & Schroth, T. (2013). El papel de la venganza en las comedias de Lope de Vega (The role of revenge in the plays of Lope de Vega).
Hipertexto
(University of Texas-Pan American), 18, 141-146.
Smith, B., & Schroth, T. (2014). Anxiety in the foreign language classroom.
Academic Exchange Quarterly
, 18(1), 19-24.
Selected Conference Presentations:
XXIX Biennial Conference on Hispanic Languages and Literatures, Baton Rouge Louisiana, Spring 2014: "Current Trends in Motivation for Studying Foreign Language at the University Level."
The AU Faculty Research Symposium, Spring 2014: "Using Authentic Media to Facilitate the Discussion of Social Issues."
The ACCA (Associated Colleges of the Chicago Area) Faculty Research Symposium, Elmhurst College, Fall 2013: "How Short Films Influence the Discussion of Social Issues."
SCMLA (The South Central Modern Language Association) Conference, New Orleans, LA, Fall 2013: "Incorporating the Topic of Immigration in French Courses: Getting Students Involved through the Use of Short Films ('Courts Métrages')."
Highlights of Campus Involvement
International programs and study abroad programming—Open Houses
Student presentations and panels
Involvement Fair
Study abroad orientations
International site visits
Faculty Advisor, Animal Rights Organization