Sara Elliott, Ph.D.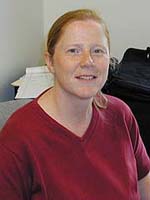 Associate Professor of English
Office Location: Eckhart Hall, Room 401
Telephone: 630-566-6514
Email Address: selliott@aurora.edu
I attended a small, private college and the personal relationships that I developed with my professors were an invaluable part of my educational experience. I try to follow the example of my mentors by getting to know my students and letting them know me as a whole person, not just as a professor. My husband and I chose to live very close to campus so that I can support students in their extra-curricular activities and occasionally invite students to our home. Outside of school, I keep very busy with my two young sons.
Education

Ph.D. in English, Northern Illinois University
M.A. in English, Northern Illinois University
B.A. in English, Wheaton College
Areas of Specialization

American Literature
Regionalism
Courses Taught

Introduction to Academic Writing
Introduction to Research Writing
Introduction to Literary Study
Creative Writing
American Literature: Puritanism-1865
American Literature: 1865-Present
The Novel
Poetry
Senior Seminar in English
Culture, Diversity and Expression
Special Topics Course: American Regionalism
Highlights of Publications, Honors and Professional Contributions
"Free Indirect Discourse as the Passageway Between Racial Boundaries in Lewis Nordan's Wolf Whistle," presented at the 39th Annual Conference of the College English Association, 2008
"Lewis Nordan," biographical/critical essay in The Dictionary of Literary Biography, Twenty-First Century American Fiction, Gale Research Group, forthcoming (2009)
"The Resisting Corpse: Lewis Nordan and the Postmodern Southern Grotesque," 37th Annual Conference of the College English Association, 2006
"The Writing Teacher as Co-Writer," ACCA Symposium on the Scholarship of Pedagogy, 2005
"Clyde Edgerton," biographical/critical essay in The Dictionary of Literary Biography, American Novelists Since World War II, Gale Research Group, 2003
Highlights of Campus Involvement

Phi Eta Sigma Honorary Member, 2008
Other Interests

Hiking
Biking
Travel
Music (Rock, Pop, Reggae, Folk)