Patrick Dunn, Ph.D.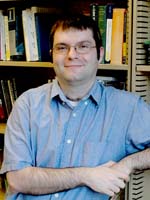 Assistant Professor of English
Office Location: Eckhart Hall, Room 406
Telephone: 630-844-5417
Email Address: pdunn@aurora.edu
Patrick Dunn has taught at Northern Illinois University, Waubonsee
Community College, and Kishwaukee Community College. He seeks to bring out
students' intrinsic motivation to learn by helping students construct
knowledge on foundations relevant to them. He also writes poetry and
commercial nonfiction, and is active in the local writing community.  
Education

B.A. University of Dubuque Dubuque, IA
M.A. Northern Illinois University DeKalb, IL
Ph.D. Northern Illinois University DeKalb, IL
Areas of Specialization

British Literature
20th Century British and American
Linguistics
Courses Taught

British Literature I and II
Linguistics
Poetry
Highlights of Publications, Honors and Professional Contributions

Presentation of "Metaphors and the Frustrations of the Classroom" at ACCA
Symposium of Pedagogy, 2008
Publication of ""What if I sang": the intonation of Allen Ginsbergs
performances" in Style, 2006
Other Interests

Linguistics
Stylistics
Performance
Poetry