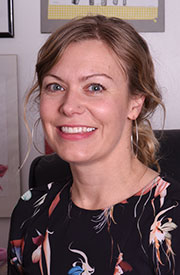 Assistant Professor of English
Office Location: Eckhart Hall, Room 414
Phone: 630-844-6195
Email: bbarclay@aurora.edu
Because learning and teaching go hand in hand, I am deliberate in my own scholarship – broadening and deepening my own studies and finding connections with other disciplines – so that I can work to bring fresh questions, ideas, and strategies into the classroom and into my research. My hope is to cultivate a space in and out of the classroom in which students feel well equipped and comfortable enough to ask probing questions and to try new approaches. My current scholarly interests include science studies and science fiction, gender studies, and environmental literature.
Education
Ph.D. in English, University of Texas at Arlington
M.A. in English, Southern Connecticut State University
B.A. in English with Communications minor, Evangel University
Areas of Specialization
Speculative Fiction
Gender Studies
Science Studies
American Literature
Contemporary Literatures
Courses Taught
American Literature 1865-1945, Digital Archives, and Popular Literature
Special Topics: Wonder Makes the World(s): Science Fiction as Science?
Contemporary Global Literature
The Novel – Gothic Novels and Their Offspring
Delusions of Gender?: Exploring Sex, Gender, and Our Cultural Hang Ups
Women's Literature: Women as Specimens, Anomalies, and Activists in Science
Gender Studies: Feminist Theory, Queer Theory, and Masculinity Studies
Monstrous Women in SF Literature and Film
Apocalyptic SF Literature and Film, Post WWII and Post 9/11
Gendered Technology in SF Literature and Film
Women's Literature
Introduction to Academic Writing
Introduction to Research Writing
Critical Approaches to Literature
American Literature Survey
Culture, Diversity, and Expression
Highlights of Publications, Honors, and Professional Contributions
"'Always as a movement forward': Feminist Science in The Green Kingdom (1957)," WisCon, Madison WI, 2013.
Review of Judith Merril: A Critical Study, Science Fiction Research Association Review, Spring 2013.
"Circus or Science?: Eden, Evolution, and Akeley's Influence in Two Early SF Films." Association for the Study of Literature and Environment, Lawrence, KS, 2013.
"Formaldehyde Fish and Drivable Ducks: SF Form and Environmental Themes in a Global Speculative Fiction Course." Eaton Science Fiction Conference, Riverside, CA, 2013.
"Disemboweled Suburbs: Teaching Zombie Fiction as Gothic Literature." Panel on Positioning the Undead in American Literature, American Literature Association National Conference, San Francisco, 2012
 "Who is it tends the Garden?": Learning from the Apocalypse in Atwood's Oryx and Crake and Year of the Flood, Panel on Environmental Pedagogies, Association for the Study of Literature and Environment Bi-Annual Conference, Bloomington, 2011
"A Quiet Fury Rising": A Feminist Assessment of Ayn Rand, Invited Speaker, UTA Women's Studies Department Lecture Series, 2010.
"'Life is a Tragedy Even Under the Most Favorable Conditions': Teaching Mizora as an Ambiguous Utopia," SSAWW Annual Convention, Philadelphia, 2009.
"'They are still the same ineffectual weaklings, my daughters…':Satire and Parody as Modes of Subversion in American Women-authored Utopian and Science Fiction," RMMLA Annual Convention, Reno, 2008
"Women's Spaces: Feminist Desire and the 1893 World's Columbian Exposition," The Society for Utopian Studies 32nd Annual Conference, Toronto, 2007
"'It Began This Way': The Synonymy of Cartography and Writing as Utopian Cognitive Mapping in Herland." Utopian Studies 17.2 (2006): 299-316.
"Louise Meriwether." Encyclopedia of African-American Women Writers. Vol 2. Ed. Yolanda Williams Page. Westport, CT: Greenwood Press, 2007. 402-05.
Departmental Work
English Internship Coordinator
Nolos Literary Magazine Faculty Advisor