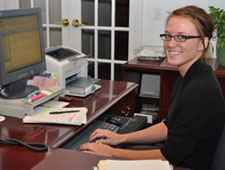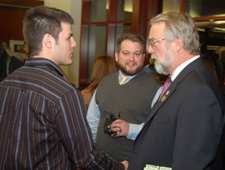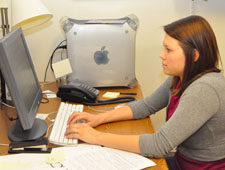 We are not currently accepting new applications for this program. Please contact the Office of Admission at 630-844-5533 or admission@aurora.edu for additional information.
An internship is not only an opportunity to continue to learn new skills and expertise; it is also an opportunity to put into practice concepts and theories learned in the classroom. You can expect to learn what it takes to be a successful professional while beginning to make meaningful contributions to the workplace. Your internship experience is an important addition to your resumeé and a step toward achieving your career goal.
Internships are a vital part of the communication program. Students are highly encouraged to complete at least one practical learning experience while at Aurora University. The internship during the junior/senior years is the most common route. The communication program will work with the Crouse Center for Student Success and Career Services to coordinate an internship experience for interested students.  To talk with a faculty member about Communication or Media Studies internship opportunities, please contact Dr. Toby Arquette.
Among the sites where prospective interns have been given the opportunity to work include:
Aurora University, Alumni Relations & Development
Aurora University, University Communications
Aurora University, Community & Government Relations
Aurora University, Sports Information
Brookfield Zoo, Communications Office
City of Aurora, Division of Community Relations & Public Information
City of Rosemont, Office of the Mayor
Disney World
East Aurora School District 121, Community Affairs
Fox Valley Montessori School
Fox Valley Park District, Division of Marketing & Communication
Fox Valley Special Recreation Association
Fox Valley United Way
Good Shepherd Lutheran Church
Kaneland School District, Public Relations
Kane County Health Department
Kiwanis International
Naperville Park District, Marketing Office
Old Second Bank, Human Resources
Oswegoland Park District, Communications
P&M Renovations
Representative Jim Oberwise (campaign)
Tom & Eddies
Senator Dick Durbin (office)
Senator Linda Holmes (campaign)
West Aurora School District 129, Community Affairs
WBIG Fox Sports Radio 1280
WGN TV/Radio