Libby Karlinger Escobedo, Ph.D.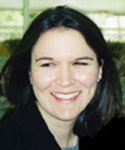 Assistant Professor of Art History       
College of Arts and Sciences
Office Location: Stephens 216
Telephone: 630-844-3829
Fax: 630-844-7820
Email Address: escobedo@aurora.edu
I joined the faculty of Aurora University in Fall 2007, after four and a half years at the Index of Christian Art at Princeton University cataloguing medieval manuscripts from the Pierpont Morgan Library's collection; I continue to research medieval manuscripts, primarily from France and England.  I believe a society's art has a great deal to tell us.  Studying the history of art helps us to better understand and appreciate our own history and visual culture, and to make connections with the broader scope of human experience.  At the same time, the close observation practiced in art history teaches us to read images, a valuable and transferable skill in our increasingly visual society.
Education

Ph.D. History of Art, Bryn Mawr College
M.A. History of Art, Bryn Mawr College
B.A. Art History, UCLA
Areas of Specialization

Medieval and Renaissance Art
Nineteenth-century Art
Courses Taught
Art History: Prehistoric to Medieval
Art History: Renaissance to Modern
The Arts and the Human Experience
Renaissance, Renovation, and Renewal
Icons and Idols: Religion and Art
Art Theft
Medieval Manuscripts
Modern Art
Culture, Diversity and Expression (first-year writing intensive course)
Wellness and Social Responsibility (second-year writing intensive course)

Highlights of Publications, Honors and Professional Contributions
Contributor, Oxford Dictionary of the Middle Ages, ed. Robert Bjork (Oxford University Press, forthcoming)

"Kings and Martyrs: Appropriation and Re-use in Anglo-Saxon England," in (Im)permanence: Cultures In/Out of Time, ed. Judith Schachter (Carnegie Mellon, 2008)

"Manuscript Books of Hours in the Age of Printing: Artistic Production in early Sixteenth-century Rouen," in The Middle Ages in Sixteenth-Century France, Jean-François Kosta-Théfaine, ed., (The Edwin Mellen Press, forthcoming 2008)

"'To the Illustrious Lord Edward': A Re-Evaluation of Audience and Patronage in the Milemete Treatise and the Companion Secretum secretorum," Manuscripta 50/1 (June 2006)

 "Heroines, Wives, and Mothers: Depicting Women in the Bible Historiale and the Morgan Picture Bible," in Between the Picture and the Word, Colum Hourihane, ed., (2005)