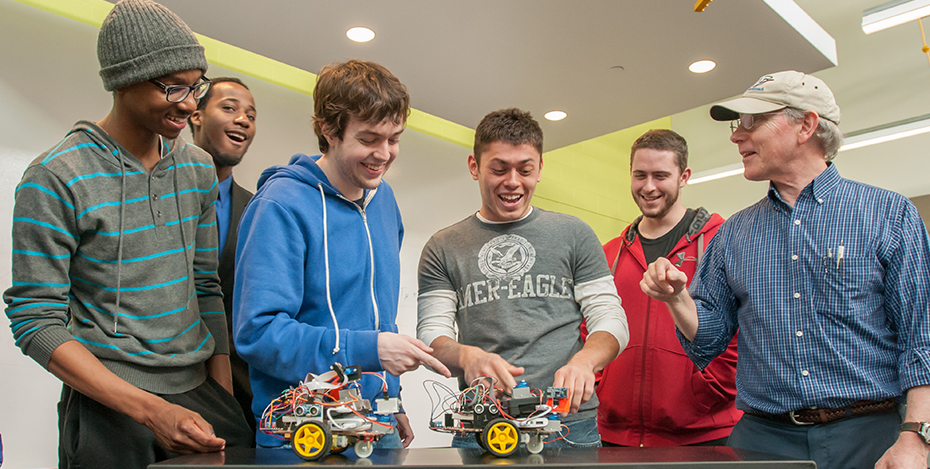 Have you thought of an idea for a new invention?
Are you interested in learning the language of innovation?
Our summer classes will focus on the design process cycle and interpersonal skills. You'll work with AU professors and industry professionals to gain experience and develop an understanding of STEM careers. Registration and scholarship applications begin on March 1.
Program cost is $535/credit hour.
Students who complete either course will earn two undergraduate credits granted by Aurora University. Applications for need-based scholarships are available.
Please note, we do have a limited number of need-based scholarships (información sobre becas basadas en la necesidad) available.
Scholarship Requirements:
Brief Essay
Parent Signature
Principal Verification of Need (letter from school principal affirming the student meets the Federal Criteria to qualify for free/reduced lunch during the 2016-17 school year).
To register for courses through the Michael J. Birck Innovation Engineering Program, please choose the link below.
Summer 2017 Courses:
Leading Design
ERG1500: Introduction to Engineering Design I
2 undergraduate credits
June 12-30 | Monday-Friday, 8:30-11:30 a.m.
Aurora University Main Campus
Register and pay for the course
Register for the course and apply for a need-based scholarship
The Invention Process
CSC1810: The Invention Process
2 undergraduate credits
July 10-28 | Monday-Friday, 8:30-11:30 a.m.
Aurora University Main Campus
Register and pay for the course
Register for the course and apply for a need-based scholarship