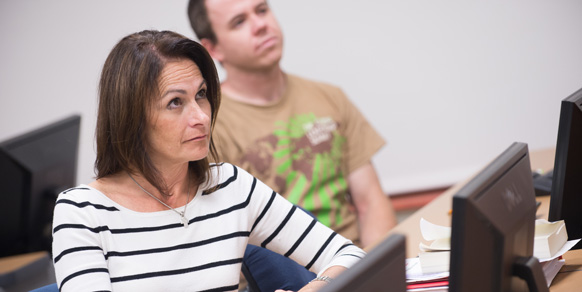 The Adult Degree Completion Program in Communication is designed for working adults who wish to develop and expand their communication skills through courses on the most fundamental and pervasive of human activities. One of the attractions of the Communication major is its versatility with regard to career opportunities. In addition to public relations, journalism, and media, just about every field requires effective communication and writing skills.

Studying human communication ranges from interpersonal processes such as persuasion and relationship formation to organizational processes such as group leadership and dispute resolution, as well as the strategies and styles of public deliberation and debate and the political and cultural processes involving mass media, the Internet, and telecommunications systems.
The goals of the Adult Degree Completion Communication major are:
to advance the understanding of communication concepts
to build skills to analyze and critique texts
to improve academic and professional writing skills
to master oral presentation skills
to develop professional facilities with media technologies
Students can complete the major requirements of 37 semester hours in two years. Most classes meet one night per week or on Saturday mornings to accommodate students' work schedules.
The Adult Degree Completion Bachelor of Arts in Communication major includes:
12 semester hours of foundational communication courses
19 semester hours of intermediate-level communication electives
Three semester hours in an advanced-level senior seminar
Additional Program Offerings
Open House and Visit Days