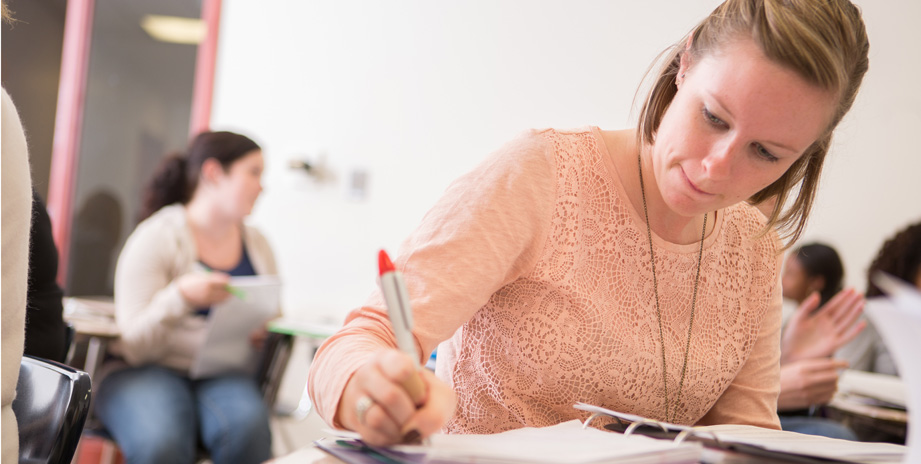 Master of Science in Applied Behavior Analysis with an emphasis on Autism Spectrum Disorders
The Master of Science in Applied Behavior Analysis program at Aurora University is designed for individuals who are interested in helping both children and adults with autism and other developmental disabilities. Graduates of the program help individuals with disabilities improve their language, motor, social and reasoning skills. The program is designed for current regular and special education teachers, school psychologists, principals, guidance counselors, speech and language clinicians, occupational and physical therapists, reading specialists, home and school visitors and other professionals and will enhance your knowledge and skills in your field. As a graduate of the program, you'll be on the leading edge of a field growing exponentially along with the skyrocketing prevalence of autism spectrum disorders.
The program prepares you to serve in community settings as a applied behavior analyst, and provides the academic training necessary for you to apply for national board certification. The overall model emphasizes the core areas of the discipline, including the scientific basis of behavior analysis, as well as how biological, social and individual differences affect human behavior. The program builds a bridge between science and practice, enabling you to evaluate needs, create and implement a treatment plan, and monitor progress in an ongoing manner.
Graduates can put their knowledge to work in clinical applications (developmental disabilities, mental health and traumatic brain injury), educational applications ( learning disabilities, and designing and evaluating instructional technology), health and fitness, and other areas. Upon completion of the Master of Science program, you'll be prepared  to work in hospitals, medical schools, mental health centers, health maintenance organizations, various educational settings, forensic settings, research facilities, and in center- and home-based programs for individuals with autism and developmental disabilities.
Program Overview
In the Master of Science program, you will complete at least 36 semester hours of coursework, offered in blended online and on-campus formats in eight- and 16-week modules. The program also offers the option to pursue the general track or the track towards board certification.
Master of Science
In the general master's track, you will complete a minimum of 450 hours of supervised practicum, built into the coursework. The ABA program is designed to be completed in two years.
Master of Science with Certification
In the board certification track, you will meet the requirements of the Master of Science program and complete 750 to 1500 hours of supervised practicum. This track meets the coursework required to sit for the Board Certified Behavior Analyst™ (BCBA®) national board certification exam. The certification track is designed to be completed in two years.
Open House and Visit Days
No events scheduled at this time.