This program is offered on the Aurora campus and at George Williams College.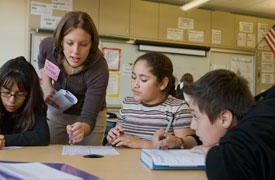 We offer a curriculum designed to meet Illinois State Board of Education (ISBE) requirements for Post-MSW candidates to become certified as school social workers in Illinois.

We will guide you through the ISBE certification process and help you prepare for the Illinois Basic Skills and Illinois School Social Work tests. Most students complete the certification requirements in one year or less.

Application Requirements
To apply to the certification program, you should provide:
Transcripts that demonstrate a Master of Social Work degree from a CSWE-accredited institution
An application (obtained online or from the Center for Adult and Graduate Studies) for the Post-Master Type 73 Program.
Two letters of recommendation from professionals in the field.
Your current, passing scores on the Test of Academic Proficiency (TAP) 400 (formally the Illinois Test of Basic Skills) and the School Social Work Content Examination (184).
All materials should be sent to:
Center for Adult and Graduate Studies
Eckhart Hall, Room 105
347 S. Gladstone Ave.
Aurora, IL 60506 
Phone: 630-844-5294
Fax: 630-844-6854
Email:
AUadmission@aurora.edu
Program Requirements
The program must be completed within four consecutive semesters from the first semester after being officially accepted into the certificate program. You are not required, but are encouraged to enroll in elective course offerings related to school social work practice as a means of rounding out your training experience.
To earn certification, you must successfully complete the following courses and maintain a 3.0 grade-point average:
SWK6430 — School Social Work Certification Course (3 semester hours)
SWK5610 — Social Work Practice with the Exceptional Child (3 semester hours)
SWK6670 — Post MSW — Type 73 Advanced Field Instruction (minimum of 600 clock hours in the field) (3 semester hours).
Field Instruction
We believe that the student should play a vital role in determining his/her field placement. We will help you select an internship site and maintain contact information with partner schools. If you have experience in relevant areas, our social work coordinator will meet with you to determine if the experience is applicable. Placements should be arranged before you register for SWK6430; Most students make internship arrangements in January.

ISBE Test Requirements

The State of Illinois requires that anyone seeking professional certification to function as a school social worker in public schools must pass two proficiency examinations before they are eligible for their school social work internship: The Test of Academic Proficiency 400 (formally the Illinois Basic Skills Examination 096) and the Illinois School Social Work Content Examination (184).
You must take and pass the TAP and the School Social Work content Examination prior to beginning your school social work concentration course work and internship. When registering for the exams, please indicate that you want the results forwarded to Aurora University.
Complete information on the tests can be found on the Illinois State Board of Education site at www.icts.nesinc.com



Open House and Visit Days
Saturday, January 25, 2014