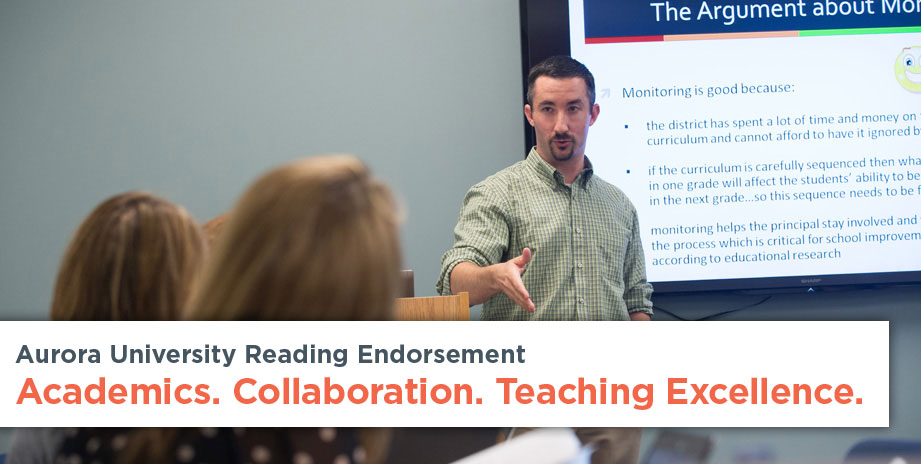 Cohorts are now forming in Aurora and Woodstock.
Aurora University offers a reading endorsement program for teachers who do not wish to complete a full Master of Arts in Reading Instruction. Coursework leading to the endorsement consists of 24 semester hours spread out over the course of six terms. Due to the fact that the endorsement candidates do not take all courses offered in the Master of Arts in Reading Instruction program, there may be terms when you are not enrolled for the full 6 semester hours.

You will complete six semester hours of a supervised clinical practicum involving assessment and instruction with struggling readers. The program also involves you in various field experiences in which you apply course content to their classroom instruction, to individual work with a struggling reader, or to developing coaching and collaboration skills. You must pass the Reading Teacher content test (177).
18 semester hours in content classes related to literacy
6 semester hours of a supervised clinical practicum involving assessment and tutoring with struggling readers
Course Requirements for the Reading Teacher Endorsement
EDU6310 Effective Word Study Instruction (3)
EDU6320 Effective Comprehensive Instruction (3)
EDU6330 Literacy in the Content Areas (3)
EDU6340 Assessment of Literacy Learning (3)
EDU6350 Teaching Reading to Diverse Learners (3)
EDU6370 Texts for Children (3)
EDU6410 Practicum in Reading (6)
Admission Requirements
All candidates seeking admission to the Reading Endorsement Program must:
Have a valid Illinois professional educator license (early childhood, elementary, secondary, special PreK-12, or preschool-age 21)
Be in a current full-time teaching position, and have one or more years of teaching experience in a PreK-12 setting
Pass the Illinois Basic Skills Test, TAP Test of Academic Proficiency or have an ACT Plus Writing composite score of 22 or higher.
Admission Process
A completed Graduate Application for Admission
Transcripts (official, sealed in envelope) from the last degree earned: undergraduate degree indicating a GPA of 2.75 or higher or a graduate degree indicating a GPA of 3.0 or higher, both based on a 4.0 scale. Aurora University accepts official electronic transcripts at AU-ETranscripts@aurora.edu
A recommendation from your current building principal or direct supervisor.
Transfer Credit
The School of Education may accept a maximum of nine semester hours of graduate credit from regionally accredited institutions of higher learning for application toward elective degree requirements. Transfer credit must be accepted prior to enrollment in the first course. Graduate faculty reserve the right to decide on the applicability of any and all transfer credit.
Candidates requesting transfer credits must submit a "Request for Transfer Credit" form with their admission application. All courses must be less than five years old at the time of admission and must be completed with a grade of "B" or better. An official transcript must be provided. It is University policy that no more than 6 semester hours taken as a "Student-at-Large" may be applied toward a graduate degree program.
Attendance Policy: All Graduate Education Programs
Attendance is mandatory at all class sessions. If a candidate is to be absent for any reason, he/she must discuss the expected absence with the course instructor before it occurs.
Academic Standards and Evaluation in Graduate Education Programs
Upon completion of each course, a letter grade is assigned to each candidate. At the graduate level, a "C" grade indicates less than complete mastery of the content and methods of the course. Only two grades of "C" are accepted at the graduate level and they must be balanced by two course grades of "A". If a "C" is received within the first three courses, the candidate may be removed from the program by action of the program faculty.
Request Information
To learn more information about the program, complete the form below.
Loading...