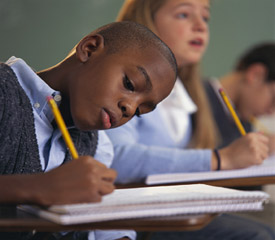 The MARI program offers reading programs during the school year for area families who desire assistance for their children who are below grade level in reading. The clinic offers reading assessment and tutoring in 16-week sessions during the school year. The reading assistance is provided by the program's candidates who are certified classroom teachers completing their clinical training to become reading specialists. Information regarding the reading clinic is distributed to local schools and can be obtained by families from their child's school or by contacting Laura Long, master's program secretary, at 630-844-3835.
The Reading Clinic is located in the Institute for Collaboration on the Aurora campus.
For more information, contact Jocelyn Booth, chair of the MARI program, at 630-844-4647 or via e-mail.
To enroll a student in the clinic, please download and return these documents: