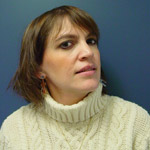 Associate Professor of Education
School of Professional Studies
Building and Room Location:     Meyer Hall, Room 215
Telephone: 262-245-8567
Fax: 262-245-8565
Email Address: fwilson@aurora.edu
Even though I actively write and work in the field of higher education, I am not ashamed to consider myself first and foremost a teacher. Being an instructor is something to embrace, not disguise. I have been quite fortunate to have the opportunity to work with non-traditional students. In my classes, we use adult pedagogical methods of discussion, case reviews, reflective writing, hands-on creating and action research, as well as the traditional lecture format. My approach is grounded in the theories of the Curriculum Reconceptualists/Marxian educators, such as John Dewey, Paolo Freire, Dave Hill and Peter McClaren.  
Education
Doctor of Education, Oklahoma State University, Curriculum and Instruction
Master of Teaching Arts, The University of Tulsa, Art Education
Bachelor of Arts, The University of Tulsa, Art Education
Areas of Specialization
Critical-theory research, policy studies, higher education labor issues, sexuality/family studies, aesthetics in education, and the politics of the built environment.
Courses Taught
Art Appreciation
Adolescent Development and Learning
Standards, History, Philosophy of Education
Introduction to Action Research
Scholarship Applied to Teaching
The Individual, Cognition and Learning
Contemporary Issues in Education
School Reform/School Renewal
Introduction to Educational Research
Qualitative Research Methods
Highlights of Publications, Honors and Professional Contributions
Agostinone-Wilson, F. and Klein, S.  (2007).  An examination of trends in requirements
for tenure-track faculty:  Does the doctorate still hold its relevance and stature?  
(paper, draft stage)
Agostinone-Wilson, F.  (2007, December).  Education as imposed ignorance:  Obscured
rationality and manufactured reality.  Public Resistance, 3(1).           
Agostinone-Wilson, F. (2006, November).  Downsized discourse:  Classroom
management, neoliberalism, and the shaping of correct workplace attitude.
Journal for Critical Education Policy Studies, 4(2),         
Agostinone-Wilson, F. (2005, March).  Fair and balanced to death:  Confronting the cult
of neutrality in the teacher education classroom.  Journal for Critical
Education Policy Studies, 3(1),         
Agostinone-Wilson, F.  (2003).  You call this violence?  In Klein, S. (Ed.), Teaching
Art in Context, 97-99.  Reston, VA:  National Art Education Association
Highlights of Campus Involvement
Faculty Dispute Resolution Committee (2008-present)
IRB Committee (2008-present)
Ed.D. Program Committee (2007-present)
Initial Certification Committee (2005-2007)
Faculty Senate (2003-2005)
Other Interests
House restoration
Historical costuming
Gardening
Reading
Writing