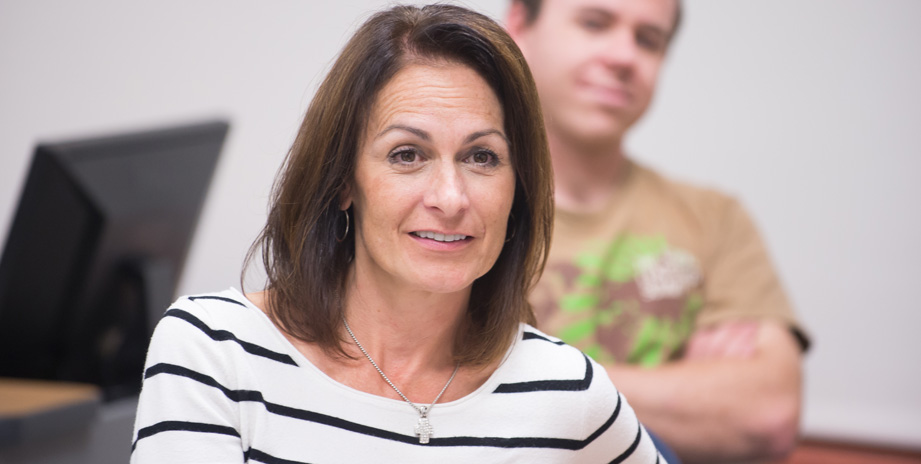 This program is offered on the Aurora campus and at George Williams College.
The Doctor of Social Work program offers a clinical doctorate designed for those who want to teach in higher education, particularly clinical theory and practice in bachelor's and master's degree programs. Our DSW program responds to the real and pressing need for qualified faculty who can teach clinical theory and practice as one of perhaps only a dozen institutions in the country offering a clinical doctorate. Graduates also are prepared to practice clinical social work at a highly advanced post-graduate level.
Program Overview
We offer the DSW program on a full- and part-time basis with courses in the evenings and/or weekends on our Aurora and George Williams College campus. We also offer a hybrid online program, where participants spend two weeks per summer at the George Williams campus and complete the remaining requirements in an online format. Most students complete the program within five years.
In the DSW program, you will complete a total of 64 semester hours, including:
48 academic semester hours
12 internship semester hours
4 dissertation supervision hours
Clinical Seminar and Clinical Oral Requirements
You will complete a clinical internship of eight hours per week, including one hour of weekly supervision, beginning in the spring semester of your first year in the program and running for four consecutive semesters. You will also concurrently complete a four-course clinical seminar sequence. With the approval of the Chair of the DSW program, you may be able to use your current place of employment for the internship.
At the end of the four-course sequence, you will construct a comprehensive paper that examines a clinical case, demonstrating mastery of a particular clinical theory and its application in clinical practice, and present this paper to the clinical oral committee.
Comprehensive Exam
After completing the first two years of coursework, you will need to pass a written comprehensive exam on that material. You will then be accepted into doctoral candidacy and may begin your research course sequence and progress toward your dissertation.
Dissertation
The dissertation process includes successfully completing the four-course research sequence, developing a successful clinical dissertation proposal, securing university Institutional Review Board approval, gathering and analyzing data, and defending the completed clinical dissertation. For more information, see Dissertation Process .