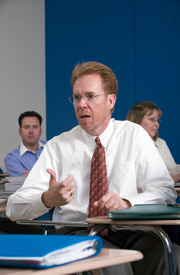 In the era of NCLB, teachers are looking to increase their competencies in their field of teaching.  Are you looking to enhance your skills?  If so, then, join your peers who have turned to Aurora University to achieve excellence by enrolling in the Master of Arts in Curriculum Instruction Program.  This is a program that is tailor made for experienced teachers.  The program will give you the tools to make systematic changes in your delivery of learning experiences.
Classes are offered at off-campus and on-campus sites throughout the university's operating region in Illinois and Wisconsin.  They are delivered collaboratively via a partnership between Aurora University and an individual school district or a consortium of small districts.  Courses are delivered by College of Education faculty.
Open House and Visit Days
No events scheduled at this time.