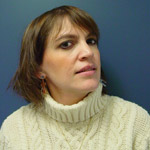 Associate Professor of Education
Office Location: Institute 221
Telephone Number: 630-844-4226
Email Address: fwilson@aurora.edu
Teaching Philosophy
Even though I actively write about policy and work in higher education, I am not ashamed to consider myself first and foremost a teacher. I have been quite fortunate to have the opportunity to build on my experience with adult students. It is critical that I not rely on assumptions of what a college class should "look" like. This means I try very hard to bring in students' work experience as part of the classroom dialogue. In my classes, we use discussion, case reviews, reflective writing, hands-on creating and qualitative research, interactive technologies, as well as the traditional lecture format.
Education
Oklahoma State University, EdD, 1998
University of Tulsa, MTA, 1994
University of Tulsa, BA, 1992
Areas of Specialization
Curriculum and instruction
Courses Taught
School Reform/School Renewal
Introduction to Educational Research
Qualitative Research Methods
Advanced Qualitative Research
Teaching
Current Research & Theory
Philosophies of Adult Learning
Dissertation
Highlights of Publications, Honors and Professional Contributions
Agostinone-Wilson, F. (2015). Today's undergraduate student: Implications for teaching research. In F. Agostinone-Wilson & J. Thomas (Eds.), Handbook for undergraduate research advisors. (Rowman & Littlefield, upcoming). 
Agostinone-Wilson, F. (2014). Class warfare: You'd better redneckognize. In W. Reynolds (Ed.), critical studies of southern place: A reader (18-31). New York: Peter Lang; Agostinone-Wilson, F. (2013). Dialectical research methods in the classical Marxist tradition. New York: Peter Lang.
Agostinone-Wilson, F. (2012). Neoconfederate ideology and history textbooks: 1860-2010. In H. Hickman & B. Porfilio (Eds.). The new politics of the textbook: Problematizing the portrayal of marginalized groups in textbooks. (pp.293-314). The Netherlands: Sense Publishers.
Agostinone-Wilson, F. (2010). Marxism and education beyond identity: Sexuality and schooling. New York: Palgrave-Macmillan.  
Highlights of Campus Involvement
Institutional Review Board Committee
Graduate Affairs Committee
Dispute Resolution Committee
GWC doctoral program advisor
AU Adult & Higher Education Program Advisor