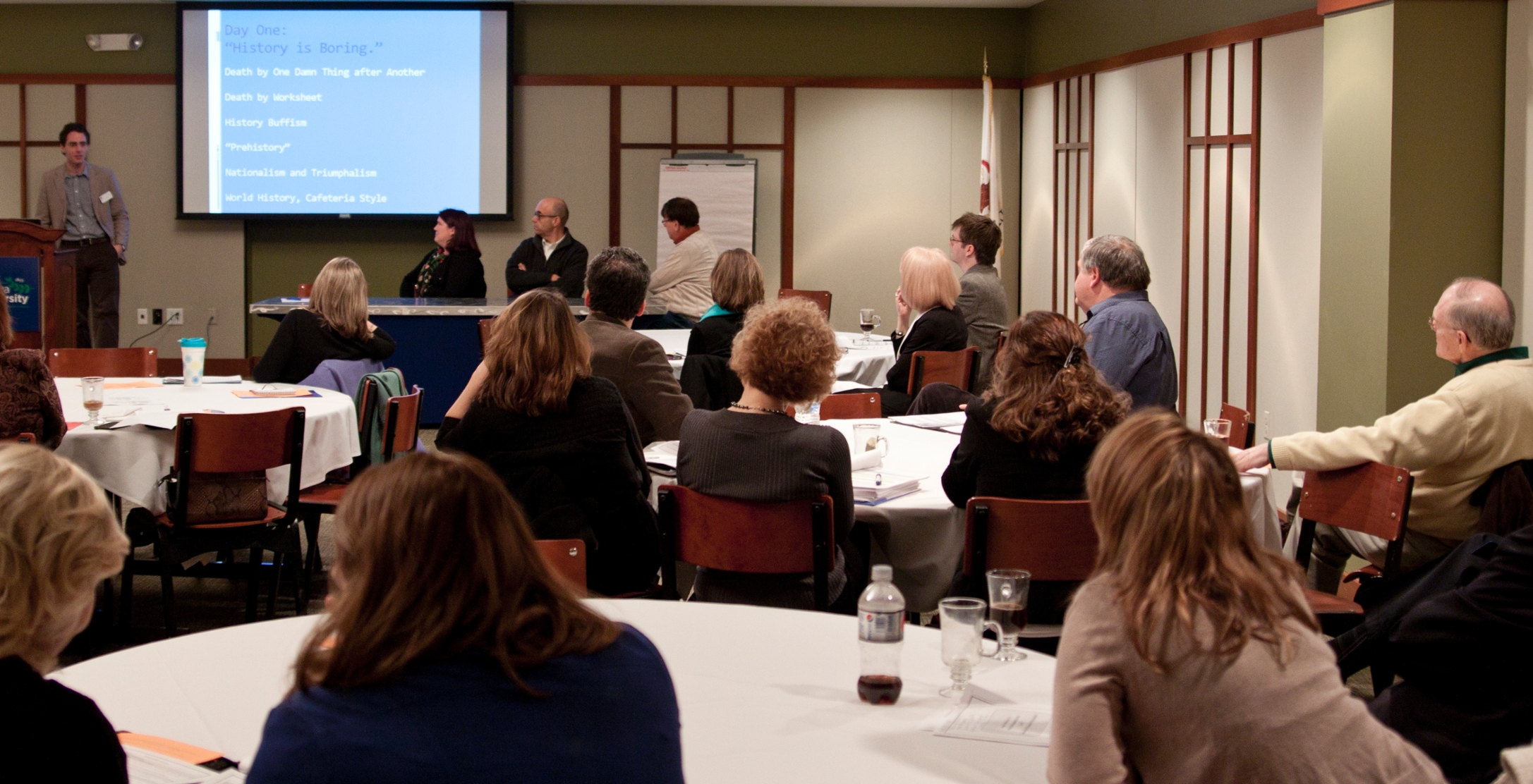 Aurora University's Center for Excellence in Teaching and Learning (CETL) promotes excellence in student learning through the development and support of faculty. The CETL seeks to advance innovation in teaching and learning environments by engaging faculty in instructional development opportunities. The Faculty Development Committee offers a variety of programs and resources focused on developing academic and field experiences that maximize student learning through implementation of best practices in instructional design, delivery, and assessment.  Onsite and remote participation is available to both adjunct and full-time faculty.
CETL Events
2016-2017 Events Guide
CETL Event Registration
Spring 2017 10th Annual Faculty Teaching and Research Symposium
Thursday, February 16th - 9:00 a.m. to 3:00 p.m. - Welcome Center/Ethel Tapper Recital Hall
Abstract Deadline: Friday, February 3rd
Please complete abstract form HERE.


A Junior Mentoring Program Workshop for Faculty and Staff - "Strengthening Vocational Exploration"
Thursday

, 

February 16th

, 3:00 - 4:30 p.m. (on campus: Wackerlin Center for Faith and Action)

Please join faculty members Dr. David Cunningham (Hope College) and Dr. David Fuentes (Calvin College) for a discussion on vocational exploration.  Faculty and staff work with students at a critical time in their lives, a time when they are searching - and often struggling - 

to 

form a clear understanding of who they are and what they might do with their lives.  While students want to learn about how to write a resume or apply for a job, they also want to explore their talents and have deeper conversations about what to do with their lives.  How can faculty and staff committed 

to

 vocational exploration strive 

to

 help students 
discover what could constitute a truly flourishing life? 

How can they have conversations about meaning and purpose within the classroom or office?  

How can they start these conversations with students and connect with them in meaningful ways?  This workshop will focus on these issues, as well as briefly introduce faculty and staff 

to

 the 

to

pic of vocational exploration in higher education 

to

day and the unique challenges (e.g. cultural forces) that this generation of students is facing as they think about their academic, career, and life goals.  Short readings will be pre-circulated in advance.
Dr. Cunningham is the head of the NetVUE (Network for Vocation in Undergraduate Education) Scholarly Resources Project, an initiative administered by the Council of Independent Colleges, as well as a Professor of Religion and Director of the Klooster Center for Excellence in Writing at Hope College (MI).  He is the editor of both V
ocation Across the Academy: A New Vocabulary for Higher Education
(Oxford University Press, 2017) and
At This Time and In This Place: Vocation and Higher Education 
(Oxford University Press, 2016). 
Dr. Fuentes is Professor of Theory and Composition in the Department of Music at Calvin College (MI) and the author of "To Whom do I Sing, and Why: Vocation as an Alternative to Self-Expression" (in 
Vocation Across the Academy
).  Dr. Fuentes 

lectures on contemporary composers, film music, music and faith, music vocation, and the place of music in human flourishing.